The European Hockey Federation has finalised the ranking positions and, in turn, the allocation of places for 2022's European club competitions following last weekend's festival of tournaments around the continent.
For EHL Men, Germany has retained its place at the head of the table thanks to Mannheimer HC's fifth place finish and a ninth place return for Rot-Weiss Köln, adding to the fourth Uhlenhorst Mülheim got at Easter 2021's FINAL4.
The points earned from these events is combined with a percentage of points earned in the 2018/19 and 2019/20 seasons of European club competition.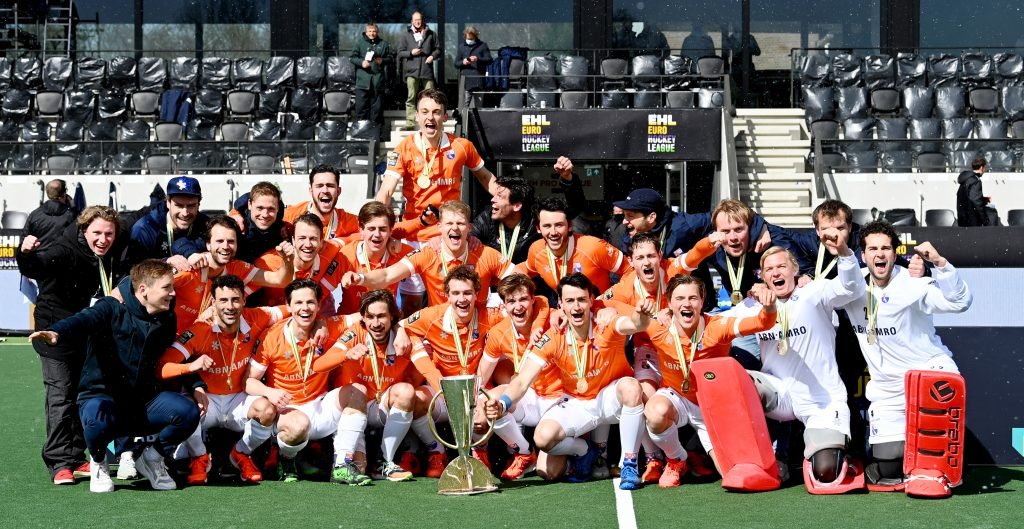 It brings with it three places in EHL Men in 2021. The Netherlands sit second and will also have three spots.
There is a change in third place, however, with Spain jumping above Belgium courtesy of Atlètic Terrassa's silver medal at Easter and Club de Campo's shoot-out success against Gantoise last weekend en route to ninth overall. It means Spain have three EHL Men spots while fourth ranked Belgium will have two places.
The other big change is Austria's jump from 11th place up to sixth overall. This is by virtue of SV Arminen's ninth place return from Brasschaat and Post SV's run to the final of the EuroHockey Trophy.
The result sees them rise above France, Belarus, Russia, Scotland and Ireland in one swoop and allows them two places in EHL Men. Russia is the country to lose out, falling three places and they now have one place in EHL Men and one in the EuroHockey Trophy.
France, Belarus and Russia have one team each in the EHL Men and in the EuroHockey Trophy. Scotland will have one EHL Men's spot and a place in the third tier EuroHockey Challenge I. Ireland, meanwhile, have one EHL Men's place and a spot in the fourth level EuroHockey Challenge II.
On the women's side, the Netherlands stay in first place in the EHL ranking table courtesy of Den Bosch's victory in the EHL Women's FINAL4 at Easter and a third place finish for AH&BC Amsterdam.
The big move is Spain's rise to second place in the ranking table by virtue of Club de Campo de Madrid's second place finish at the FINAL4 and Sanse Complutense's runners-up spot in the EuroHockey Trophy.
Germany is the country to drop down after Club an der Alster finished fourth at the FINAL4 with UHC Hamburg ending fifth overall with two wins at last weekend's EHL Ranking Cup. They will have one EHL Women's spot and one place in the EuroHockey Trophy.
England have the same allocation as they stay in fourth place with Surbiton's sixth spot earned from the ABN AMRO EHL Ranking Cup and East Grinstead's fourth spot in the Trophy.
Belgium were another big winners following Gantoise's brilliant performance in Lille, winning the Trophy with four wins out of four, scoring 23 times along the way. With Braxgata also doing well, ending third, Belgium's coefficient sees them jump from eighth to fifth in the ranking table. It gives them one EHL Women's spot and one Trophy ticket.
Belarus are the side to miss out, moving down from sixth to seventh, leaving them with one Trophy place and one in the EuroHockey Challenge I.
Ireland remain with one place in EHL Women with their second club going into EuroHockey Challenge I.
EHL Men allocation of places
Germany – 3 clubs
Netherlands – 3 clubs
Spain – 3 clubs
Belgium – 2 clubs
England – 2 clubs
Austria – 2 clubs
France – 1 club
Belarus – 1 club
Russia – 1 club
Scotland – 1 club
Ireland – 1 club
EHL Women allocation of places
Netherlands – 2 clubs
Spain – 2 clubs
Germany – 1 club
England – 1 club
Belgium – 1 club
Ireland – 1 club