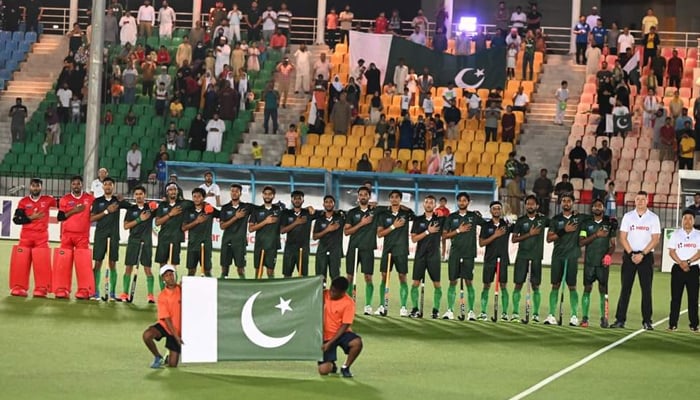 LAHORE: The Pakistan Hockey Federation (PHF) have made big changes as the Asian Games 2023 are just around the corner.
A new management and selection committee was announced on Sunday who will accompany the team in the Asian Games 2023, which are set to be held in China in September – October.
Olympian Shahnaz Sheikh has been appointed as the new head coach of the hockey team.
The other personnel in the coaching panel are Olympian Dilawar Hussain, Shakeel Abbasi, and goalkeeper coach Amjad Ali.
Former international player Saeed Khan will be the manager while Brigadier Muhammad Yusuf Baig has been appointed as the team doctor. Rana Nasrullah Khan has been hired as a physical trainer.
On the other hand, World Hockey Cup's gold medalist Rana Mohammad Shafiq has been included in the selection committee.
1978 Asian Games Gold Medalist and 1978 World Cup gold-medalist Rana Shafiq represented Pakistan in 33 international matches.
He has previously worked as head coach, manager, selector and camp commandant.
Shafiq was included in the committee in place of Olympian Shakeel Abbasi.
The PHF also announced a 36-man squad that will participate in the training camp for Asian Games.
The training camp will take place in the Naseer Bunda Hockey Stadium, Islamabad from August 21.
The five-member selection committee under the leadership of Olympian Kaleemullah made recommendations to include the 36 players in the camp taking into account the performance of the players.
The squad was finalised after the approval of PHF head Brigadier Khalid Sajjad Khokhar and will be report to the head coach Shahnaz on Monday (August 21) by 4pm.
Squad
Goalkeepers: Akmal Hussain, Abdullah Ishtiyaq Khan, Waqar, Ali Raza, and Abdullah Sheikh.
Defenders: Mohammad Abdullah, Arbaz Ahmad, Mohammad Sufyan Khan, Aqeel Ahmed, and Mohammad Bilal Aslam.
Midfielders: Usama Bashir, Mohammad Murtaza Yaqoob, Arbaz Ayaz, Ahtisham Aslam, Mohammad Baqar, Mohammad Nadeem Khan, Mohammad Imran and Syed Shehbaz Haider.
Forwards: Mohammad Imad, Afraz, Roman, Arshad Liaquat, Abdul Qayyum, Abdul Rehman (Wapda), Waqar Ali, Mohammad Arsalan, Mohammad Umar Bhat, Abdul Hannan Shahid, Mohammad Shahzaib Khan, Abdul Wahab, Zikriya Hayat, Bisharat Ali, Rana Waleed, Hamza Fayaz and Abdul Rehman.