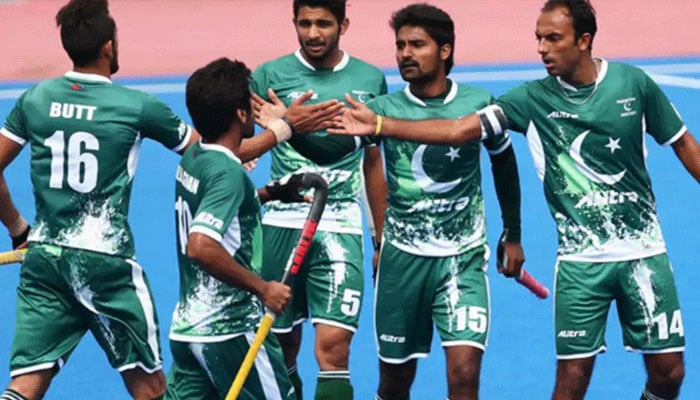 The Pakistan Hockey Federation (PHF) has called 45 players for a training camp ahead of Asian Champions Trophy, scheduled from August 3 to 12 in Chennai, India. 
Chairman of national selection committee, Olympian Kaleemullah finalised the probables and sent the list to PHF president Khalid Sajjad Khokhar. After the president's approval, the names of probables were announced today. 
The camp will start on June 12 in Lahore.
Probables for training camp
Goalkeepers: Abdullah Shafique, Akmal Hussain, Ali Raza, Mohammad Faizan Janjua, Waqar, Abdullah Sheikh, Bilal Khan
Defenders: Arbaz Ahmed, Mohammad Sufiyan Khan, Mohammad Abdullah, Aqeel Ahmed, Mohammad Bilal Aslam, Saad Shafique
Midfielders: Junaid Manzoor, Ihtisham Aslam, Mohammad Murtaza Yaqoob, Mohammad Baqir, Arbaz Ayaz, Mohammad Nadeem Khan, Mohammad Zain, Mohammad Amad
Forwards: Rana Abdul Waheed, Mohammad Umar Bhutta, Afraz, Abdul Hannan Shahid, Roman, Mohammad Shahzaib Khan, Usama Bashir, Mohammad Imran, Arshad Liaquat, Abdul Wahab, Abdur Rehman, Zikriya Hayat, Ali Murtaza, Basharat Ali, Abdul Qayyum, Bilal Akram, Mohammad Adnan, Rana Sohail Riyaz, Waqar Ali, Shoaib Khan, Abdul Wajid, Taimur Javed Khan, Syed Shehbaz Haider, Mohammad Arsalan
Asian Champions Trophy is a big event as it serves as an opportunity to prepare the team for the Asian Games 2023 in China, which are also the qualifying rounds for securing a berth in the 2024 Paris Olympics.
India, Pakistan, Malaysia, Japan, China and South Korea will participate in the 7th edition of the Asian Champions Trophy. Pakistan and India have won the event twice and once jointly in 2018.