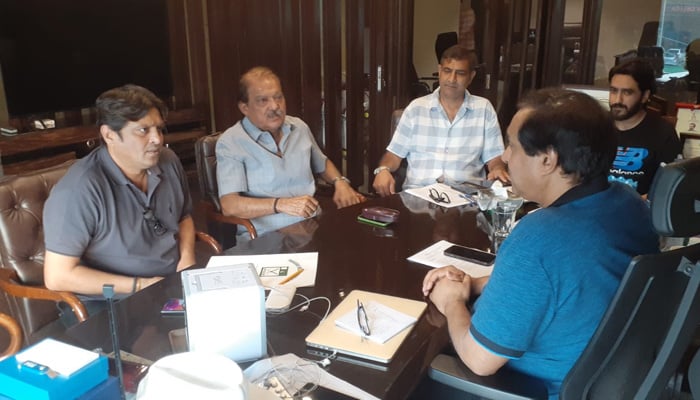 The Pakistan Hockey Federation (PHF) is making efforts to organise an international series before Olympic Qualifiers at home. 
According to the details shared by the PHF, federation's secretary Haider Hussain along with his delegation met FIH's president Tayyab Ikram on Thursday. During the high-profile meeting, Asian Hockey Federation's representative Ghulam Ghous and Punjab Hockey Association (PHA)'s secretary Asif Naz Khokhar were also present. 
FIH's president assured that the world body will help PHF organise international series in Pakistan. 
"On behalf of PHF, we are in contact with different federations including Korea, Japan, and Oman. Hopefully, there will be a series in Pakistan before Olympic Qualifiers," he said. 
PHF's secretary feels that an international series before Olympic Qualifiers, scheduled in Pakistan next year in January, will benefit them. 
"We are making efforts to organise an international series to gain the confidence of countries to come to Pakistan at the time of Qualifiers," he said in a statement. 
PHF has already started contacting sponsors and national organisations for their support in organising a successful event. 
PHF has been granted hosting rights for FIH Hockey Olympic Qualifiers for the first time in history. 
Pakistan will host men's qualifiers from January 13 to 21 next year. Pakistan are lined up with China and Spain who are the other two countries to host the men's and women's events.
As many as eight teams will travel to Pakistan for the event. After 1990 when Pakistan hosted its last hockey World Cup, an eight-team event will be happening in Pakistan for the first time.
Pakistan hosted Hockey Champions Trophy in 1994, 1999, and 2004 but these events featured only six teams. In 2018, Pakistan last hosted a FIH event, featuring four teams.