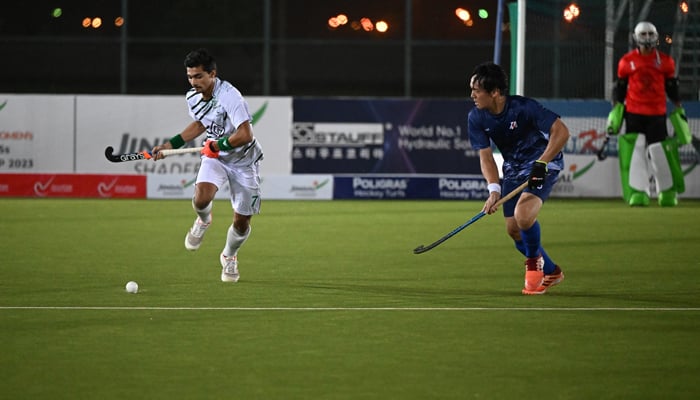 KARACHI: Pakistan trounced Japan 26-1 in their opening match of Asia Hockey5s World Cup Qualifier in Salalah, Oman, on Tuesday. 
Captain Rana Waheed scored eight, meanwhile Arshad Liaquat notched up five goals for the winning side. 
Mohammad Abdullah and Zikriya also scored hat-tricks for Pakistan. 
Abdul Wahab, Murtaza and Rahman scored two goals each, whereas Ihtisham Aslam scored one goal. 
Pakistan hockey team will face Bangladesh and India tomorrow in the tournament. 
The Pakistan squad is accompanied by head coach Olympian Wasim Feroze and manager Major Muhammad Shahnawaz Khan.
India, Malaysia, Pakistan, Japan, Oman and Bangladesh are placed in the Elite pool. Hong Kong China, Indonesia, Afghanistan, Kazakhstan and Iran will compete in the Challenger pool. 
After the teams complete their pool matches, the first crossover matches will be played amongst the bottom two teams of the elite pool and the top two teams in the challenger pool. The winners of these two contests will play in the second phase of crossover matches, against the teams in third and fourth place of the elite pool. 
Finally the two top finishers of the elite pool will take on the winners of the second crossovers in the semi-finals. The losing semi-finalists will play in the bronze medal match, where the winner, along with the two finalists will qualify for the inaugural FIH Hockey5s World Cup Oman 2024.
Pakistan squad
Abdullah Ishtiaq Khan, Ali Raza, Muhammad Abdullah, Ehtsham Aslam, Muhammad Murtaza Yaqoob, Arshad Liaquat, Zakriya Hayat, Rana Abdul Waheed Ashraf, Abdul Rehman, and Abdul Wahab.
Pakistan's remaining matches
Aug 30 – Bangladesh
Aug 30 – India
Aug 31 – Oman
Aug 31 – Malaysia