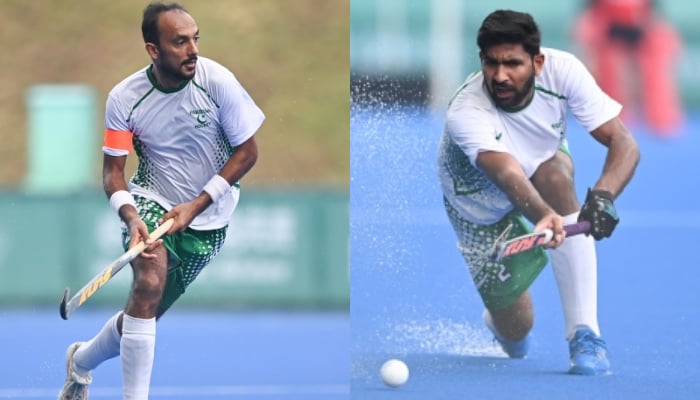 Pakistan hockey team defeated Uzbekistan 18-2 in their third match of the ongoing Asian Games in Hangzhou, China.
This was the third consecutive win for Pakistan in the event.
Arbaz Ahmad was the star of the show for Pakistan as he ended up scoring five goals.
Abdul Rana and Afraz also scored hat-tricks for the green shirts during the one-sided contest.
Captain Umar Bhutta and Abdul Rehman scored two goals each, meanwhile Rooman, Mohammad Sufyan and Arshad Liaquat notched up one each.
Earlier, Pakistan continued their impressive form in the ongoing Asian Games and recorded an impressive 5-2 win over Bangladesh on Tuesday.
Meanwhile, in their first game, Pakistan recorded an astounding 11-0 win against Singapore on Sunday.
Schedule of Pakistan's remaining matches
September 30 — vs India
October 2 — vs Japan
Squad
Goalkeepers: Akmal Hussain, Abdullah Ishtiyaq Khan, Waqar, Ali Raza, and Abdullah Sheikh.
Defenders: Mohammad Abdullah, Arbaz Ahmad, Mohammad Sufyan Khan, Aqeel Ahmed, and Mohammad Bilal Aslam.
Midfielders: Usama Bashir, Mohammad Murtaza Yaqoob, Arbaz Ayaz, Ahtisham Aslam, Mohammad Baqar, Mohammad Nadeem Khan, Mohammad Imran and Syed Shehbaz Haider.
Forwards: Mohammad Imad, Afraz, Roman, Arshad Liaquat, Abdul Qayyum, Abdul Rehman (Wapda), Waqar Ali, Mohammad Arsalan, Mohammad Umar Bhat, Mohammad Shahzaib Khan, Abdul Wahab, Zikriya Hayat, Bisharat Ali, Rana Waleed, Hamza Fayaz and Abdul Rehman.