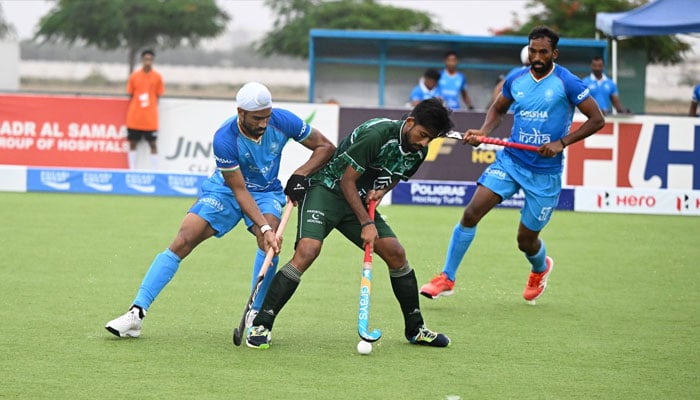 Pakistan's hockey team was unlucky as they lost against India in the final of the Asia Hockey5s World Cup Qualifier on penalties after the match ended 4-4 in the normal time on Saturday in Salalah, Oman.
Pakistani players could not convert any of their penalties during the shootout while Indian players scored two out of two and clinched the title after an eight-goal thriller.
Pakistan's Abdul Rehman scored the first for his side in the 5th minute but just after the two minutes, Jugraj Singh equalised for his side.
The Blues took the lead in the 10th minute with Maninder Singh finding the back of the net but once again, just three minutes after India's goal, the Men in Green scored another and levelled the game.
The first half ended 3-2 in Pakistan's favour as Zikriya Hayat scored another one for his side just one minute before the half-time whistle.
The second half saw a total of three goals. Arshad Liaquat scored for their side in the 19th minute but Pakistan's two-goal lead couldn't stand for long as India's Mohammad Raheel scored a brace in the second half and made sure that the match ended in a draw.
After the final whistle, Mohammad Murtaza and Arshad took the penalties for their side and missed.
Meanwhile, Maninder and Gujrot Singh were the penalty takers from their side with the latter hitting the winning shot.
Pakistan's skipper Rana Abdul Waheed remained the top-scorer of the tournament with 27 goals to his name while goalkeeper Abdullah Ishtiaq Khan was named the Best Goalkeeper of the Tournament.
Both teams have qualified for the 2024 Hockey5s World Cup, which is set to be played in Muscat, Oman.
Pakistan squad
Abdullah Ishtiaq Khan, Ali Raza, Muhammad Abdullah, Ehtsham Aslam, Muhammad Murtaza Yaqoob, Arshad Liaquat, Zakriya Hayat, Rana Abdul Waheed Ashraf, Abdul Rehman and Abdul Wahab.