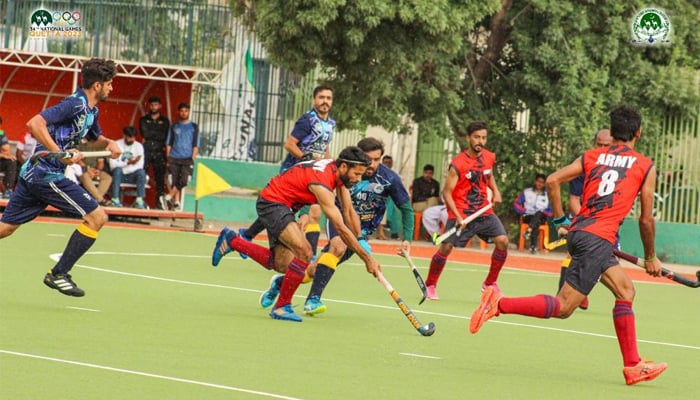 The men's hockey teams of Pakistan Army, Pakistan Air Force (PAF), Pakistan Navy and WAPDA qualified for the semi-finals in the ongoing 34th National Games that are being held in Quetta.
In the first pool match on Tuesday (May 16), WAPDA defeated Balochistan with a gargantuan scoreline of 9-0.
Meanwhile in the second match, Pak Army managed to overcome Punjab with a scoreline of 4-2.
KPK won their tie against Sindh by three goals as the match finished 4-1. While PAF won the last match of the day against Pak Navy by two goals.
After the end of round matches, four teams, Pak Army, Navy, PAF and Balochistan, booked their place in the semi-finals.
First semi-final will be played between Pak Army and PAF, while the second one will be between WAPDA and Pak Navy. Both of the matches will be played on Thursday (May 18).
While the final match will be played on Friday (May 19) at Nawab Ghos Bakhsh Hockey Ground of Ayub Sports Complex.
Earlier, the Torch Relay of the National Games completed its journey across Pakistan.
The torch was handed over to Balochistan Secretary Sports Ishaq Jamali by the Akhuwat College University's students and Dr Amjad Saqib, founder and Executive Director of Akhuwat Foundation, in a ceremony held at Akhuwat College University Kasur.
The event, which students of Akhuwat College University organised late Saturday night, was graced by Tayyab Ikram, President International Hockey Federation (FIH), as the guest of honour. Tayyab, globally known for his dynamic vision for athletes and youth empowerment, had a very motivating interaction with the young students, Dr Amjad Saqib, Olympians and officials of the Pakistan Olympic Association (POA).
Speaking on the occasion, Tayyab emphasised that youngsters are the most precious asset.
"They are entitled to have access to the best education and sporting facilities. We have to recognise that we must provide them with the best facilities to enable them to reach their potential for a dynamic and progressive society," he said.
"It is their right and our obligation to give them all the support to become future leaders," he added.