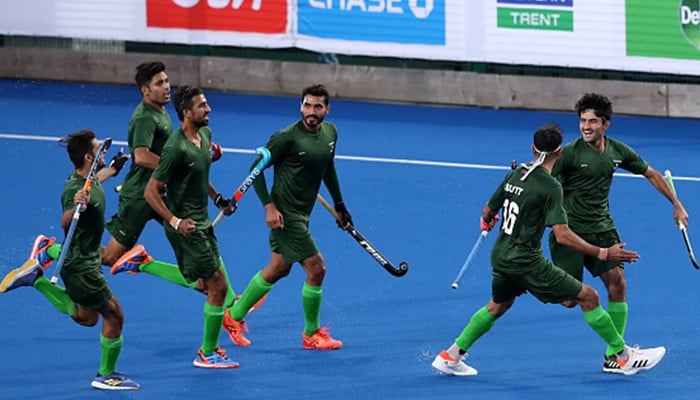 ISLAMABAD: A high-profile Pakistan Hockey Federation (PHF) Committee formed by the prime minister will hold an important meeting today (Wednesday) to consider the findings of the Performance Evaluation Committee and take the future course of action accordingly.
The committee headed by Minister for Defence Khawaja Muhammad Asif and included Minister for IPC Ehsanur Rehman Mazari and Minister for Economic Affairs Sardar Ayaz Sadiq will go through the findings recently submitted by the Performance Evaluation Committee that included Pakistan Sports Board (PSB) Director General Shoaib Khoso, Olympians Akhtar Rasool, Shahnaz Sheikh and Islahuddin Siddiqui.
The committee submitted its report with the ministry which forwarded it to the prime minister for approval. The prime minister, who is also patron of the PHF, has all the authority to decide on any issue confronting the game of hockey and has authorised the high-profile committee to decide the game's fate in accordance with the sub-committee finding.
The PHF's performance and fears of missing the third Olympics in a row were echoed in the meeting of National Assembly Standing Committee on IPC Tuesday with all parties including sitting secretary PHF Haider Hussain and former Olympians present on the occasion agreed to accept all the decisions of the prime minister on the committee findings.
When Committee Chairman Nawab Sher Waseer asked all who were present on the occasion what should be the next course of action on hockey affairs, all agreed to wait for the PM's directives.
"We have submitted the sub-committee report with the prime minister's consideration and now we are waiting for his direction. We could send a soft reminder to the PM requesting him that members wanted an early decision on the committee's findings. We also want an early solution to the pending issue," Mazari said.
He added that he had asked the de-notified PHF officials to raise standard of the teams. When the current regime took over the PHF's reins, the national team's ranking was No 6 in the world. Now the team ranking is hovering around 16 and 18. 
"When I took over last year, the team ranking was No.18 and now it is No.16," PHF Secretary Haider said.
The high-power committee recommended conducting a financial audit of the accounts of PHF by Federal Audit and Performance Audit.