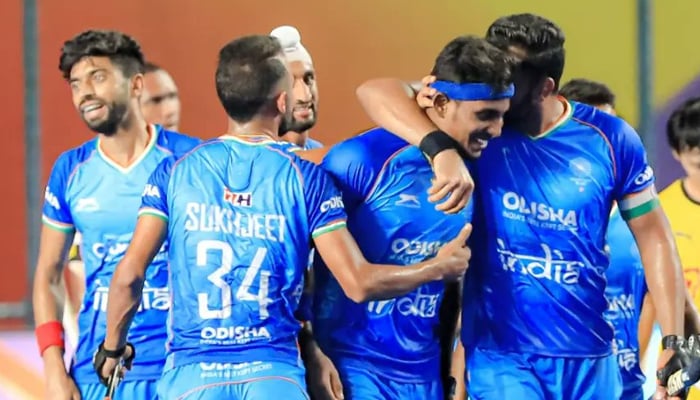 India battered Malaysia 5-0 in the ongoing Asian Champions Trophy and jumped to the first position in the points table in Chennai, India, on Sunday.
The home side comfortably defeated the unbeaten Malaysian side and gave their fans a victory to celebrate after their last game against Japan ended in a 1-1 draw.
The Blues dominated the game and took a lead in the first quarter with Karthi Selvam scoring the first for the home side.
India's dominance over the Malaysians continued and just after the start of the second half, the hosts doubled their lead with Hardik Singh scoring on a rebound.
India's third goal was scored by no one other than their skipper Harmanpreet Singh, who scored his 150th hockey goal for the Blues.
Gurjant Singh and Jugraj Singh scored the fourth and fifth goal, respectively, for the hosts and helped their side end the game in a remarkable way.
Points table

Pakistan and India have won the Asian Champions Trophy thrice each, which makes them the most successful teams in the event.
Korea won the title in 2021 after beating Japan on penalties in the final in Dhaka, Bangladesh.
All six teams will each play five matches in the round-robin stage with the top four set to qualify for the semi-finals. The last four matches will be held on August 11, with the final on the next day.
Schedule of remaining matches
August 7 — Monday
Japan vs Malaysia
Pakistan vs China
Korea vs India
August 9 — Wednesday
Japan vs China
Malaysia vs Korea
India vs Pakistan
August 11 — Friday
Fifth place game – Fifth in group vs Sixth in group
Semi-final 1 – Second in group vs Third in group
Semi-final 2 – First in group vs Fourth in group
August 12 — Saturday
Third place game – Loser semi-final 1 vs Loser semi-final 2
Final – Winner semi-final 1 vs Winner semi-final 2