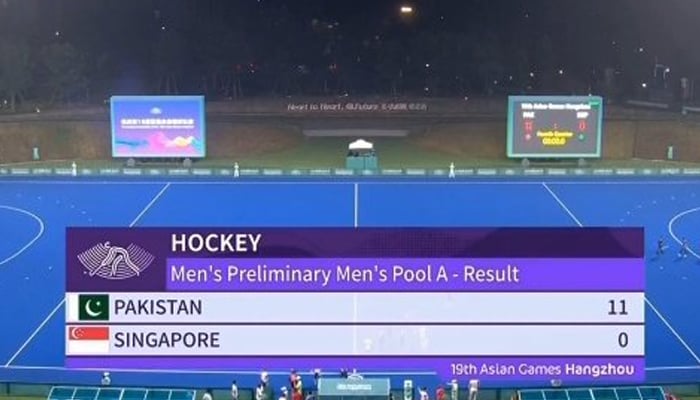 Pakistan's hockey team started their Asian Games journey with a thumping 11-0 win against Singapore on Sunday.
The Green Shirts showed no mercy to the Singaporean side and battered them by 11 goals and got off to a flying start as they will face Bangladesh on Tuesday.
Pakistan started the game slowly, Mohamamd Ammad opened the scoring for the Green Shirts in the seventh minute but the score remained the same for the remainder of the first quarter.
It was during the second quarter that the Men in Green charged themselves and pushed the already-struggling Singaporean side to the wall.
Pakistan scored five goals during the second quarter — making it 6-0 — and ended all of Singapore's hopes to come back in the game.
The third quarter was no different than the second one, Pakistan put the ball four more times in the box and extended their lead to 10-0.
Pakistan, who dominated the entire game, played the last quarter with low intensity, saving themselves for their next match, and only scored one goal.
The match ended with Pakistan recording an astounding 11-0 win.
Ammad, Arshad Liaquat, and Arbaz Ahmad scored two goals each. Mohammad Shahzaib Khan, Abdul Waheed Rana, Zikriya Hayat, Afraz, and Abdul Rehman all scored one goal.
Schedule of Pakistan's remaining matches
September 26 — vs Bangladesh
September 28 — vs Uzbekistan
September 30 — vs India
October 2 — vs Japan