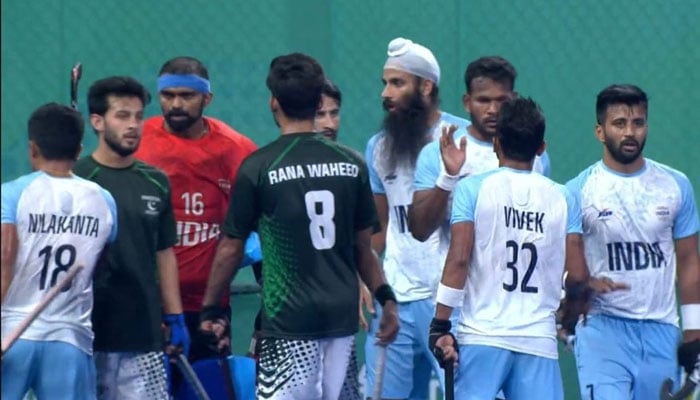 Saturday did not belong to Pakistan in the ongoing Asian Games 2023 as after struggling to make an impact in other disciplines, Pakistan were absolutely battered by India as the Blues handed a 10-2 defeat to the Green Shirts in hockey Hangzhou, China.
India took a handsome two-goal in the first quarter with their skipper Harmanpreet Singh and Mandeep Singh scoring one each for their side.
India continued to dominate Pakistan and scored two more in the second quarter, extending their two-goal lead to four.
However, the third quarter was much more competitive than the previous two. India scored three more but Pakistan managed to pull two back but that was not enough as the winners already had a massive lead by then.
India's dominance continued in the fourth quarter as they scored three more and ended the game 10-2, recording one of the biggest victories against Pakistan.
For India, Harmanpreet Singh scored four goals, Varun Kumar two while Mandeep Singh, Sumit, Shamsher Singh and Lalit Kumar Upadhyay scored one each.
Meanwhile, for Pakistan, Mohammad Sufyan Khan and Waheed Rana Ashraf scored one each.
The Men in Green will now face Japan on October 2. Pakistan can still qualify for the semi-finals by drawing the match while Japan must have to win to reach in the final four.
Squad
Goalkeepers: Akmal Hussain, Abdullah Ishtiyaq Khan, Waqar, Ali Raza, and Abdullah Sheikh.
Defenders: Mohammad Abdullah, Arbaz Ahmad, Mohammad Sufyan Khan, Aqeel Ahmed, and Mohammad Bilal Aslam.
Midfielders: Usama Bashir, Mohammad Murtaza Yaqoob, Arbaz Ayaz, Ahtisham Aslam, Mohammad Baqar, Mohammad Nadeem Khan, Mohammad Imran and Syed Shehbaz Haider.
Forwards: Mohammad Imad, Afraz, Roman, Arshad Liaquat, Abdul Qayyum, Abdul Rehman (Wapda), Waqar Ali, Mohammad Arsalan, Mohammad Umar Bhat, Mohammad Shahzaib Khan, Abdul Wahab, Zikriya Hayat, Bisharat Ali, Rana Waleed, Hamza Fayaz and Abdul Rehman.