SATURDAY, SEPTEMBER 16

DIII: NO. 15 BATES vs NO. 7 WILLIAMS | 11:00 AM ET | NSN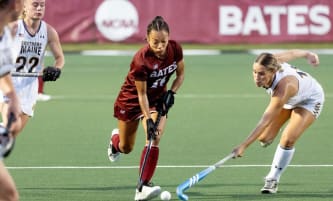 No. 7 Williams has a tough opponent in No. 15 Bates as they look to secure a victory in the first NESCAC game of their 2023 campaign. 
After taking down then-No. 14 Bowdoin last Saturday, Bates (3-1, 1-0 NESCAC)  jumped up seven spots in the national rankings to No. 15. It was an important conference win for the Bobcats, and their second straight season defeating the Polar Bears after falling to them 23 consecutive times since 2000. Two goals came from junior forward Maria Femia, whose impact this season for Bates has already been felt – Femia was recently honored as the NESCAC Player of the Week.
This will be the first conference test of the season for Williams (2-1), who most recently took down Smith at home in a high scoring, 6-3, match. The Ephs felt the pressure after falling in their second game of the season to then-No. 7 Babson, who has since moved up in the rankings after notching that win. 
The last time these two teams met, Bates finally broke a curse after losing to Williams in 10 straight matchups. It was a tight 1-0 overtime victory for the Bobcats that Williams had been in control of for stretches of the game. In overall matchups, the Ephs lead 20-3.
DII: ADELPHI vs NO. 4 SAINT ANSELM | 12:00 PM ET | NE10 NOW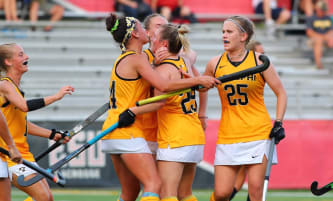 A three-game stretch against ranked opponents continues for Adelphi as they host No. 4 Saint Anselm on Saturday afternoon.
Saint Anselm (3-1) played three top-5 opponents to start the year and battled to take two of three, beating No. 3 West Chester and No. 2 Shippensburg — in overtime and double overtime, respectively. The Hawks racked in accolades this week: NFCHA Defensive Player of the Week and NE10 Goalkeeper of the Week Mackenzie McConnell, NE10 Player of the Week Chloe Kapsambelis, and NE10 Defensive Player of the Week Grace Michael. 
Adelphi (1-3) has dropped three straight but the run hasn't been without its positives. On Tuesday, the Panthers battled in a narrow 2-1 loss to No. 5 West Chester. After falling behind early, Elisabeth Seyfarth equalized and it took a fourth-quarter goal for the Golden Rams to escape. Goalkeeper Amanda Montiel has stayed busy in the cage, ranking fifth in D-II with 11.3 saves per game.
While Saint Anselm may be favored, the Panthers have won the last three meetings and hold an 11-6 advantage in the all-time series. All three games were decided by a single goal and the last two went to overtime.
DIII: NO. 9 YORK vs ITHACA | 1:00 PM ET | SPARTANS ALL-ACCESS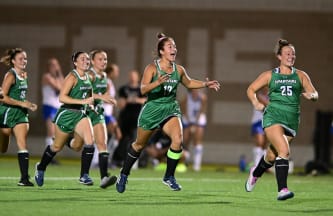 No. 9 York and Ithaca will clash for the first time on Saturday afternoon in York, Pa.
Ithaca (3-2) started off their season with a 3-0 loss to then-No. 17 Kean but then quickly turned it around with three straight wins. On Wednesday night, the Bombers suffered their second loss of the season when they dropped a 3-1 loss to SUNY Cortland. 
The Spartans (4-0) made noise last week when they defeated No. 2 Johns Hopkins by a margin of 3-1 in their home opener. The win set a program record for highest victory against a ranked opponent. For her efforts in goal the past weekend, which included four saves in the win against the Blue Jays, Belle Fields was tabbed the MAC Commonwealth Defensive Player of the Week. Fields' heroics continued on Wednesday when she notched an impressive ten saves in York's 2-1 overtime win over Franklin & Marshall. 
DII: NO. 5 WEST CHESTER vs NO. 10 MANSFIELD | 1:00 PM ET | PSAC SPORTS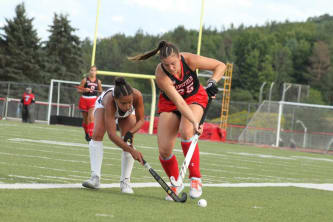 Two high-profile D-II teams meet on Saturday in Pennsylvania — No. 5 West Chester and No. 10 Mansfield. While the host Golden Rams hold a decisive 13-0 advantage in the all-time series, the Mountaineers are fresh off an upset win over No. 2 Shippensburg.
West Chester (3-1) has won back-to-back games over Bentley and Adelphi, the latter in its home opener. The Golden Rams are scoring three goals per game, paced by the dynamic duo of Claudia Jaszczak and Jasmine Miller who have scored four goals apiece.
Mansfield (4-0) brings an unblemished record into Saturday's meeting with three road wins under its belt already. The Mountaineers swept through the Dora Metrelis Field Hockey Classic before shutting out New Haven and No. 2 Shippensburg. Goalie August Lewis, who earned PSAC Defensive Athlete of the Week honors after the first shutout, matched a Mansfield school record with her 13th career shutout against the Raiders. The Mountaineers are 4-0 for the first time since 2007.
In last November's meeting, Mansfield came close to knocking off the Rams as they took a 2-0 lead — only for West Chester to score three unanswered goals in a 3-2 win.
SUNDAY, SEPTEMBER 17

DIII: NO. 1 MIDDLEBURY vs NO. 3 BABSON | 1:00 PM ET | NSN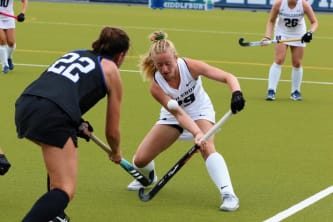 Top-ranked Middlebury will test their stamina this weekend as they take on No. 3 Babson at home on Sunday after they travel to Clinton, N.Y. to face No. 17 Hamilton on Saturday.
Middlebury (3-0, 1-0 NESCAC) picked up their first conference win last weekend against No. 10 Amherst. They dominated the Mammoths statistically in the 3-0 victory that saw goals from three separate athletes. Coming up, the Panthers will sandwich this non-conference game against Babson between NESCAC teams in No. 17 Hamilton and No. 16 Bowdoin.
Babson (5-0) entered the top three in the Division III national rankings this past week after upsetting then-No. 5 Williams last Saturday. Senior Andrea Marguerite tallied a pair of goals in the first half to help lift the Beavers to a 2-1 victory over the Ephs. In their most recent game against No. 15 Bates, Babson navigated a 3-2 win that included two goals from sophomore Caroline DiGiovanni. 
The Beavers hosted the Panthers in 2022 and faced a 4-0 defeat. In their eight meetings, Babson has only won once, in 2017.
by NCAA