SUNDAY, OCTOBER 8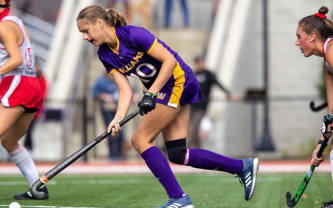 In their last non-conference match-up of the season, No. 9 Williams will take on No. 6 Salisbury on neutral ground at Rowan University in Glassboro, N.J.
After taking back-to-back OT losses to top teams Messiah and Johns Hopkins earlier in the season, Salisbury (8-2) has bounced right back with four victories. Most recently, the Gulls took on No. 8 York and put on a great defensive effort that outlasted 12 Spartan penalty corner opportunities. A goal from freshman Marli McDorman in the 38th minute propelled Salisbury to a 1-0 victory. Last week, McKenna Horner tallied two goals apiece in the Gulls' wins over Catholic and St. Mary's, earning her a spot as the C2C Offensive Player of the Week.
Williams (5-2, 2-1 NESCAC) will have a week-long break between their previous game – a big 3-0 win over then-No. 10 Amherst – and their upcoming game on Saturday at Connecticut. The Ephs controlled the game against the Mammoths, outpacing them in every stat. Senior Molly Hellman notched an assist off her insert on the game-winning goal to Pilar Torres, putting her at the number one spot in assists in the NESCAC at seven.
The Ephs and Sea Gulls have only met once before, and with high stakes – in last year's NCAA Tournament Quarterfinals, Williams knocked out Salisbury with a 2-0 victory to move on to the Semifinals.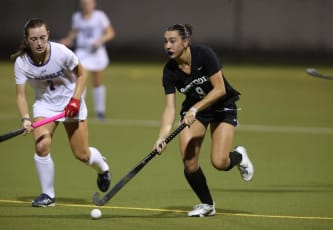 No. 13 Amherst and No. 12 Bowdoin will match-up on Sunday after each taking on another ranked NESCAC opponent on Saturday.
Looking to get back over .500 in conference, Amherst (5-4, 3-3 NESCAC) will kick off their weekend against No. 21 Wesleyan on Saturday. The Mammoths had just bounced back with three straight NESCAC wins when their streak was stamped out by Williams last week.
Bowdoin (7-2, 2-2 NESCAC) is also looking to grab a Saturday NESCAC win – theirs against No. 24 Trinity. The Polar Bears recently picked up a major 2-1 victory on the road over Williams, where senior Almira Arnold's first goal of the season ended up being the game-winner.
Last season, Amherst defeated Bowdoin by a 3-1 scoreline after falling 1-0 in the NESCAC quarterfinal the year prior. In overall matchups, the Polar Bears hold a 24-15 advantage.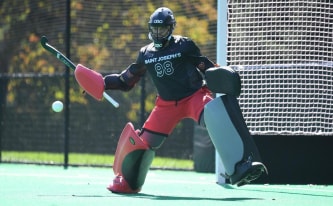 No. 13 Harvard and No. 14 Saint Joseph's will take a quick break from conference play to face each other on Sunday at noon.
Harvard (7-3, 3-0 Ivy) enters the back-half of their season with a perfect 3-0 record in conference – exactly what they would hope for with the addition of the new Ivy League postseason. The Crimson's only three losses came from the first three first top-10 teams they faced, but they were able to break the spell when they matched up against No. 10 Syracuse this past Sunday. It was an unusually high-scoring contest that included nine different goal scorers, five goals in the second quarter alone, and ended with Harvard winning 6-5. Defender Brone-May Brough put up an impressive two goals in the win while holding down the backline, and was honored as the Division I Defensive Player of the Week.
Saint Joseph's (9-3, 3-0 A10) also remains unbeaten in their conference and has run into trouble against top-10 opponents. The Hawks narrowly lost to then-No. 6 Virginia earlier in the season, falling 2-1, and took a 4-1 setback to then-No. 2 North Carolina this past weekend. A10 offensive leader Manu Ghigliotti, who notched the lone goal against the Tar Heels, was honored as the A10 Offensive Player of the Week after a seven point weekend.
The pair faced each other for the first time last season, when the Hawks took a 1-0 victory over the Crimson.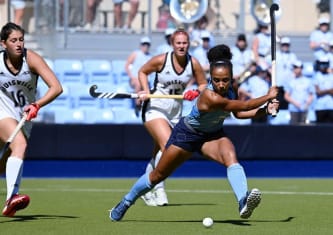 Top-ranked North Carolina returns home to Karen Shelton Stadium this weekend to host an ACC matchup against No. 11 Boston College on Friday – followed by a non-conference clash against No. 10 Liberty on Sunday. 
With a 3-0 shutout against Temple last weekend, Liberty (10-1, 3-0 Big East) improved to their best 11-game start in program history. The wins so far include then-No. 6 Virginia and then-No. 14 Harvard, while the lone loss was in overtime to a new 2023 powerhouse – Duke. Anchored by a strong defense that includes Bethany Dykema and Reagan Underwood, the Flames have seen a spread of offensive talent led by Arteta Milagros and Jodie Conolly.
North Carolina (8-1, 2-0 ACC) has gone on to win every contest after their early season loss to Iowa, including a big 2-0 shutout against Louisville. With the win, UNC picked up their first ACC victory of the season and first home shutout since October 2022. The Tar Heels are led offensively by a trio of U.S. U-21 Women's National Team athletes – Ryleigh Heck, Charly Bruder, and Kiersten Thomassey – and have seen goals from 11 different athletes so far this season. 
Last October, the Tar Heels took down the Flames 6-3 after falling 4-0 in the 2021 season. Overall, North Carolina has eight wins to Liberty's one.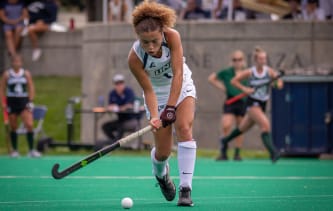 It will be a rematch of the 2022 America East semifinals this Sunday when New Hampshire travels to No. 17 UMass Lowell. 
New Hampshire (8-3, 4-0 AE)  is yet to be stopped in the America East, most recently taking down Bryant 3-2. Twin sisters Tasmin and Tamera Cookman each tallied a goal in the win, and the duo now boasts a combined 15 goals and 36 points. Tasmin Cookman picked up her second America East Offensive Player of the Week honor this week.
UMass Lowell (9-2, 2-0 AE) is currently on a six-game win streak after falling to then-No. 1 Iowa on the road earlier this season. The winning streak has matched a program record heading into Friday's meeting with California — which, like each of the River Hawks next three games, will come at home. UMass Lowell is a perfect 7-0 at Wicked Blue Field in 2023.
New Hampshire took a dramatic 2-1 shootout victory over UMass Lowell in the America East semifinals last season after losing 5-1 in regular season play. Three of the five past meetings between the Wildcats and the River Hawks have gone into overtime.
by NCAA