SATURDAY, OCTOBER 28

DI: CORNELL vs HARVARD | 12 PM ET | ESPN+ ($)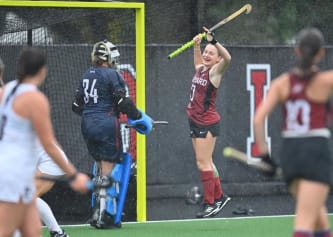 The two top teams in the Ivy League, Cornell and Harvard, have already clinched their spots for the inaugural Ivy League tournament. This Saturday, they will battle it out for a potential No. 1 seed and home field advantage in the tournament, set to take place November 3 and 5.
Harvard (12-3, 6-0) has already secured at least a share of the regular season title with a 6-0 conference record that includes a dominant 4-0 win over Princeton and recent 2-0 victory over UPenn. With the win over the Quakers, the Crimson defense has now five straight shutouts that puts a punctuation mark on a seven-game winning streak. Freshman Sage Piekarski scored once in that match and also in Harvard's 7-0 win over Boston University, earning her the title of Ivy League Offensive Player of the Week.
Very similar to the Crimson, Cornell (12-3, 5-1 Ivy) also holds a 12-3 record overall, and has four shutouts off their recent seven consecutive wins. The Big Red however has one Ivy League loss – a 3-2 shootout loss to Princeton. 
DIII: NO. 3 JOHNS HOPKINS vs NO. 23 FRANKLIN & MARSHALL | 12 PM ET | CENTENNIAL DIGITAL NETWORK
Centennial Conference play finishes out this Saturday, starting with a Top-25 contest between No. 3 Johns Hopkins and No. 23 Franklin & Marshall at noon. 
Looking to make another deep postseason run this year, Johns Hopkins (15-1, 9-0 CC) enters their final game of the regular season with a 15-1 record. This past week was successful for the Blue Jays, who picked up three more conference wins – including a 3-0 shutout against No. 24 Swarthmore. It was no surprise the Division III powerhouse swept the Centennial Conference awards, with Siena Urbanski picking up Offensive Player of the Week after tallying an eight-point week, and goalkeeper Alexis Loder earning Defensive Player of the Week. Loder anchored a backline that shutout the Swarthmore offense for the first time since September 1. 
Franklin & Marshall (10-6, 8-1) was on a hot streak until last Wednesday, when they were blanked, 4-0, by Swarthmore. The Diplomats have already picked up some big conference wins that include a 2-1 shootout victory over then-No. 18 Ursinus and a 1-0 win over then-No. 16 Bryn Mawr. Against top opponents early this season, Franklin & Marshall has been close – falling 2-1 to then-No. 15 Christopher Newport, 1-0 to then-No. 8 Messiah, and 2-1 in OT to then-No. 9 York. 
In their long history of match-ups, the Blue Jays have 28 wins to the Diplomats' 16. Last season, Johns Hopkins claimed a 3-0 victory.
DIII: DESALES vs STEVENS | 12 PM ET | MAC TV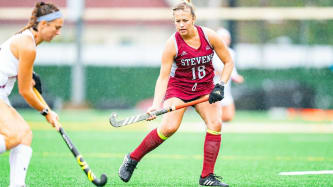 It's a showdown between the two undefeated MAC Freedom teams when DeSales hosts Stevens for their last game of the regular season on Saturday. 
Stevens (14-2, 6-0 MAC) is enjoying another successful season so far after a 2022 season that ended in the MAC semifinals when they lost to Arcadia. Last week, the Ducks previewed their strength with a 2-0 shutout over the Knights as graduate student Lynda Farinella tallied her tenth goal of the season. Stevens is now up to eight shutouts this season, with sophomore goalkeeper Lily Wierzbicki leading Division III in save percentage (0.941) and goals against average (0.24).
Despite posting a .533 record overall, DeSales (8-7, 6-0) is currently undefeated in conference play. The Bulldogs faced a few tough challenges early on in the season, including a narrow 2-1 loss to then-No. 11 TCNJ and a 3-2 double overtime loss to now-No. 24 Swarthmore. After picking up a 4-1 victory over FDU-Florham and a 7-1 win over Kings College this past week, DeSales swept the weekly MAC Freedom awards. Sophomore Jordyne Strong tallied four goals and one assist in the two wins, earning Offensive Player of the Week, while senior Catie Mcgrath's tough defense earned her Defensive Player of the Week. The offensive leader for the Bulldogs is senior Maddie Trocki, who tallied an impressive four goals in the match against Kings, bringing her total on the season to 17.
The Ducks will be looking to avenge their 2-1 loss to the Bulldogs last season, and start to even out their all-time match-up record that currently stands at 2-6. 
DIII: NO. 5 MESSIAH vs NO. 9 YORK | 1 PM ET | MAC TV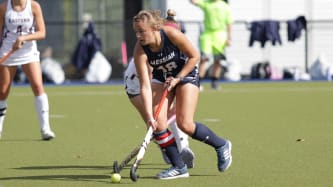 Two teams unbeaten in MAC Commonwealth play meet on Saturday afternoon to decide the top seed. Both No. 5 Messiah (nine wins) and No. 9 York (six wins) enter on lengthy winning streaks and boast identical 6-0 conference records.
Messiah (14-1, 6-0 MAC) has been a force to be reckoned with this season, having lost only one match – a 2-1 overtime heartbreaker to No. 3 Johns Hopkins. Since then, the Hawks have rattled off nine straight wins — a run that includes all six of their conference matches. Messiah averages 4.2 goals per game while allowing less than one goal per game. As the dominant force in the MAC Commonwealth, the Hawks have their eye on a 16th straight conference championship title. 
It's been a stellar season for York (14-2, 6-0 MAC) as well, posting a perfect conference record and only two losses overall. The Spartans fell to then-No. 25 Lynchburg and then-No. 6 Salisbury earlier this season, but had picked up a 3-1 victory over then-No. 2 Johns Hopkins in just their second match this fall. York showed off their stellar defense this past week with a pair of shutouts against Widener and Eastern – limiting both teams to zero shots on goal. A big piece of that defensive effort was Brooke Cordisco, a midfielder who also tallied two goals in the game against Eastern. 
In the seven total meetings between the two teams, York has not won yet. The Spartans had their closest match-up last season, when they lost 3-2 in overtime in the regular season. Messiah defeated York 2-0 in the MAC Commonwealth final to win the title of champion.
DIII: HOUGHTON vs SAINT JOHN FISHER | 3 PM ET | STRETCH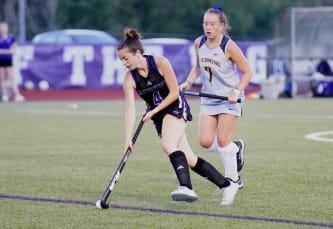 It's a high-stakes match between Houghton and Saint John Fisher this weekend to determine who will be the top seed in the Empire 8 conference.
With a Houghton win over Saint John Fisher and a Hartwick win over Keuka, there would be a three-way tie (broken by goal differential) for the first place seed. 
Saint John Fisher (9-7, 6-0 Empire 8) is currently in the number one spot in conference with a perfect 6-0 record. It was a big win for the Cardinals last weekend when they defeated Hartwick 2-1, with an impressive seven saves from goalkeeper Sophia Trozzi and a defensive save from Rileigh Luste.
Houghton (11-4, 5-1 Empire 8) has had a successful season, recording 11 victories and just a single loss so far in conference play. The Highlanders' lone defeat was 3-1 to Harwick in a rematch of last season's conference championship. Houghton's Bekah Davie leads the Empire 8 in goals at 17, while Jace Hunzinger leads in assists at 21.
Last season, the Cardinals took a 3-1 regular season victory to the Highlanders but fell 3-0 in the Empire 8 conference semifinal. In all time matchups, Houghton trails 3-10, winning last fall for the first time since 2012.  
DII: NO. 8 ASSUMPTION vs NO. 6 SAINT ANSELM | 3:30 PM ET | NE10 NOW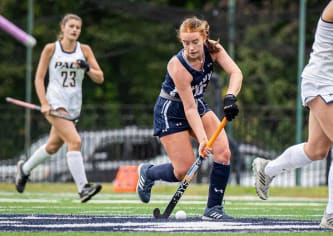 NE10 rivals No. 8 Assumption and No. 6 Saint Anselm will meet for one final regular season contest on Saturday at 1 p.m.
Entering the national rankings this week, Assumption (13-4, 12-0 NE10) has been heating up at the end of the regular season with 12 consecutive wins – all in conference. After wins over Southern New Hampshire and St. Thomas Aquinas this past week, the Greyhounds picked up two NE10 weekly honors – Goalkeeper of the Week for Paige Gillette, and Rookie of the Week for May van Woudenberg. Van Woudenberg tallied both goals in the 2-0 win over STAC, while Gillette had a pair of saves in the shutout.
Despite having two conference losses, Saint Anselm (14-3, 10-2 NE10) has impressed this season by registering a few high-caliber wins. Early in the season, the Hawks had back-to-back wins over top-three PSAC teams West Chester and Shippensburg – both 2-1 OT wins. Now, they are on a six game win streak, also in conference play.
The two teams are perfectly even at 17 wins and 17 losses in all time meetings. Always a tight match-up, the Greyhounds ended the Hawks' 2022 season with a 2-1 OT win in the NCAA Quarterfinals. This was after Saint Anselm had defeated Assumption in shootouts in the regular season.
Images courtesy of: Northwestern Athletics, Brieanna Andrews/Maryland Athletics, WNE Athletics, La Salle Athletics, Demetrius Kazanas/Pace Athletics, Ben Solomon/Rutgers Athletics, Duke Athletics, Hannah Ally/Lafayette Athletics, Gil Talbot/Harvard Athletics, Marty Corcoran/Hopkins Athletics, Dave Janosz/Stevens Athletics, Messiah Athletics, Houghton Athletics, Saint Anselm Athletics
by NCAA