SATURDAY, OCTOBER 21

DIII: NO. 1 MIDDLEBURY vs NO. 7 TUFTS | 11 AM ET | NSN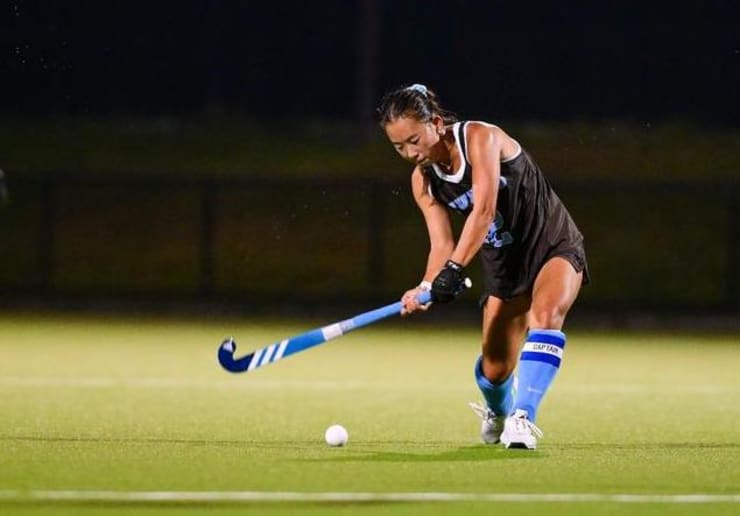 With just two games left in the season, Middlebury (13-0, 8-0 NESCAC) is looking for a perfect 15-0 record to end their regular season play. The Panthers have defeated every opponent they've been up against, including now-No. 2 Babson and No. 20 Trinity, who was their lone loss last season. With a clinical offense led by Amy Griffin and NESCAC Player of the Week Katie George, and a defense that has only allowed eight goals, the Panthers remain unstoppable.
Tufts (10-3, 7-1 NESCAC) has been having their own impressive season, with seven NESCAC victories that includes back-to-back wins this past weekend over No. 10 Bates and No. 9 Williams. Junior Claire Gavin notched a goal in each match, which included the OT gamewinner in the Jumbos' 2-1 win over the Ephs. Sophomore goalkeeper Lydia Eastburn made ten saves over the weekend, only allowing a single goal.
The Panthers have won nine of the last ten meetings with the Jumbos, most recently shutting out Tufts 2-0 in the 2022 NESCAC championship.
DII: LIMESTONE vs NO. 4 MOUNT OLIVE | 11 AM ET | FLOLIVE ($)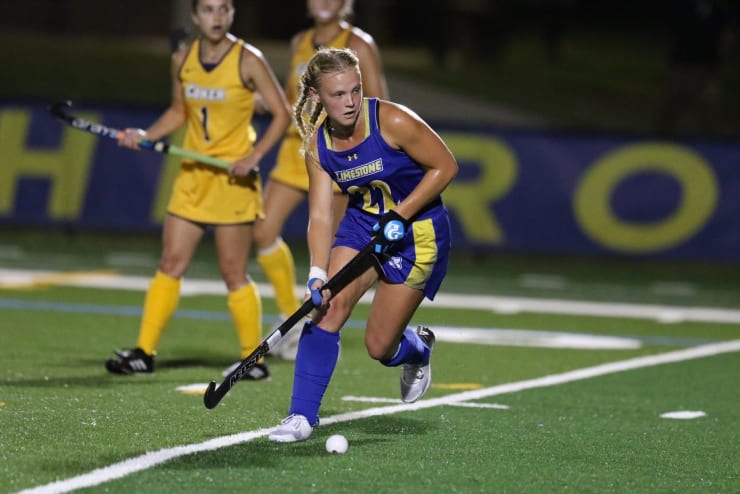 Limestone will take on No. 4 Mount Olive for the second time this season in another SAC showdown.
Back in the top-five ranks, Mount Olive (13-1, 12-0 SAC) has been cruising their way through the SAC. This past Wednesday, the Trojans matched up against the only other ranked SAC team, Newberry, and came out with a 4-2 victory. Senior Avery Congleton, who now ranks third in the SAC in goals and points, scored the go-ahead goal in the second quarter, then added one more for insurance in third. Last weekend, Mount Olive recorded a 1-0 win over Belmont Abbey – the team's fifth shutout this season – with the help of center back Maud van Duin, who was named the SAC Defensive Player of the Week.
Currently ranked fourth in the SAC, Limestone (8-3, 8-3 SAC) has been hot on a five game win streak after losing to Lander in overtime on September 26. Their past few matches have all been close – a 3-2 win over Coker this week and a 1-0 OT win against Converse last week. 
When the pair met up earlier this season, Mount Olive took a 2-1 victory at home. The Trojans have won the past three match-ups while the Saints won the first four.
DIII: NO. 18 WESLEYAN vs NO. 11 BOWDOIN | 12 PM ET | NSN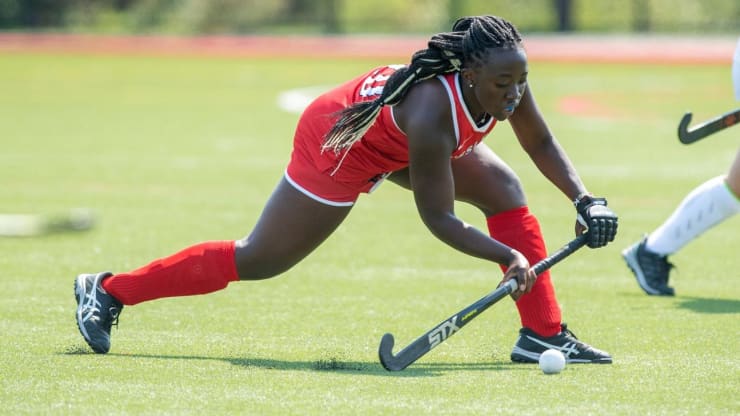 Looking to secure their playoff spot in the most competitive Division III conference, No. 18 Wesleyan and No. 11 Bowdoin will match-up on Saturday at noon.
It's been a straight split in the NESCAC so far for Wesleyan (8-5, 4-4 NESCAC). The Cardinals notched some impressive wins – like a 2-1 OT win on the road against then-No. 5 Tufts, and an early season 4-1 victory over then-No. 14 Trinity – but recently suffered a narrow 3-2 loss to No. 9 Williams after falling to No. 10 Bates last weekend. 
Bowdoin (10-3, 5-3 NESCAC) has now picked up three straight NESCAC wins, including an impressive 3-2 victory over Amherst. The Polar Bears have a wealth of offensive talent, with Mackay Bommer tallying three goals across the three wins, and Faith Jennings and Georgie Coetzer each notching two.
The Polar Bears have been dominant in the all-time series against the Cardinals, winning the past 12 straight meetings and holding a 37-9 record. If Wesleyan wins this match-up, it will be the first time since 2009.
DIII: NO. 2 BABSON vs MIT | 12 PM ET | BABSON SPORTS NETWORK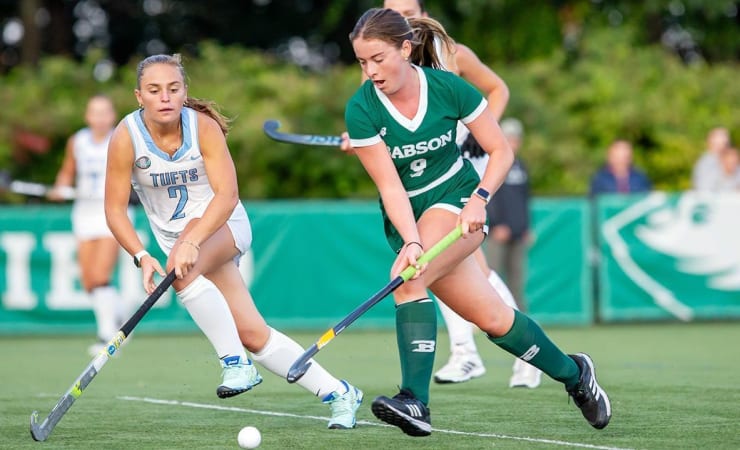 Besides having an outstanding 15-1 record (9-0 NEWMAC), Babson's current claim to fame is being the only team to come within one goal of defeating Middlebury. Since the lone loss to the Panthers, the Beavers have won nine consecutive matches, while maintaining a perfect record in conference. This past week, Babson defeated Wellesley and Springfield by a combined score of 10-1. Sinead Walsh and Camille Marsh lead the Beaver attack, with 32 and 31 points, respectively. 
After suffering three consecutive losses early in the season, MIT (11-3, 7-0) has bounced back without a single loss since September 12, when they fell 3-2 to then-No. 6 Tufts. The Engineers are paced offensively by Paige Forester, who ranks second in goals in the NEWMAC at 15. MIT most recently took down Mount Holyoke in a mid-week match-up by a massive eight-goal margin, after shutting out Clark 5-0 last weekend.
In their long history dating back to 1984, Babson is 33-18 in all time meetings, having won the past four times. The Beavers outpaced the Engineers 3-1 to win the NEWMAC title in 2022. 
DIII: DEPAUW vs OHIO WESLEYAN | 12 PM ET | DEPAUW VIDEO NETWORK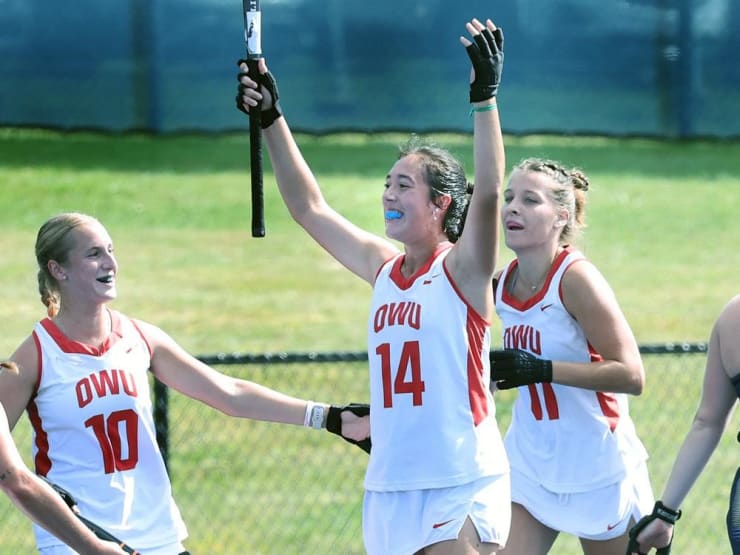 Undefeated Ohio Wesleyan will travel to Greencastle, Ind. to take on DePauw in a battle for NCAC supremacy.
One of just four teams that remains unbeaten in all of college field hockey, Ohio Wesleyan (13-0, 7-0 NCAC) is looking to protect their title of best in the NCAC. Not only have the Battling Bishops posted a stellar record, but they've tallied 10 straight shutouts. Part of that defensive line is NCAC Defensive Athlete of the Week Gabi Dahllof. The junior helped lead her team to their two most recent shutouts against Earlham and Washington & Jefferson, where each team was only allowed a single shot on goal. OWU has four athletes  with 20 or more points on the season – Olivia Danley (28), Allie Crawford (21), Emma Wright (21) and Mattison Hyland (20). 
DePauw (10-4, 7-1) is just shy of a perfect conference record after falling 2-0 to Denison last week. The Tigers bounced back with a 3-2 win over Wittenberg, a win that was propelled by two goals from Maggie Volpe and two assists from Lilly Harris. DePauw will host from Reavis Stadium for just the fifth time this season – getting home field advantage in a heavy travel year. 
Last November, DePauw just missed out in the NCAC final when they fell in double overtime to OWU. Just a month earlier, the Tigers had defeated the Bishops 1-0 in shootouts – one of just their two regular season losses.
by NCAA