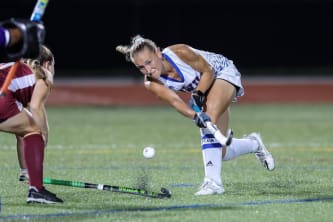 The GNAC's top offensive team, Lasell, will host the conference's best defensive side, Johnson & Wales, on Saturday in Newton, Mass.
After an extremely successful 2022 season that started off 15-0 and ended 19-2, Johnson & Wales (11-1, 7-1 GNAC) is on track to have another stellar year. Previously undefeated until this week, the Wildcats are outscoring opponents 49-2 with 14 different athletes tallying a goal this season. Junior Izzy Ward has been having a breakout season, already tallying 11 goals on the season to bring her career total to 17. Not far behind offensively is Ave Pontes, who already has nine goals in her first year, and was honored as the most recent GNAC Rookie of the Week. Freshman Sophia Brea is one of the best goalkeepers in the GNAC, leading in save percentage (.917), goals against (1), and goals-against average (0.12)
While JWU leads the GNAC defensively, Lasell (12-0, 9-0 GNAC) dominates the GNAC offensively. Three members of the Laser squad hold the top three spots in goals and points – Sheridan Blaha, Abbey Playle, and Lily Stark. After tallying two hat tricks last week, Blaha was honored as the GNAC Player of the Week and Division III Offensive Player of the Week. Trailing only behind JWU's Brea in all three statistical categories in conference, goalkeeper Courtney Tello was named the GNAC Goalkeeper of the Week. With their recent 5-0 win over Anna Maria, Lasell surpassed their number of wins from the 2022 season.
Last year when the two met, the Wildcats shutout the Lasers, 5-0.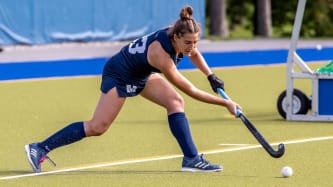 The last time No. 1 Middlebury lost a game was October 15, 2022, to NESCAC foe Trinity. Now, one year later, the No. 21 Bantams will try to repeat the magic.
Perfect through 11 games, Middlebury continues to dominate Division III and the NESCAC. The Panthers are six-for-six in conference play, outscoring their opponents by a hefty 25-2 margin. Cruising through most of their challengers, Middlebury had the most trouble against a non-NESCAC opponent – Babson – winning by a narrow scoreline of 3-2. The Panthers recently took down ranked teams in Wesleyan, Bates, and Bowdoin.
Trinity (8-4, 3-4 NESCAC), on the other hand, has had some trouble in conference. After suffering three straight NESCAC losses in recent weeks, the Bantams turned it around last week with a 4-3 victory over Connecticut College and a 1-0 win against No. 12 Bowdoin. Katrina Winfield notched two goals in the 4-3 win over the Camels, and the senior now leads the NESCAC in goals (11). With her second goal of the season, senior Jackie Frank was the difference maker in the 1-0 win over the Polar Bears. Senior goalkeeper Olivia McMichael registered her fifth shutout of the season after making seven saves for Trinity.
Middlebury's 2-1 loss to Trinity last fall broke their 42-game win streak that had extended from the 2021 season. The Panthers, who had defeated the Bantams in the prior eight meetings, went on to win 3-0 in the 2022 NCAA Quarterfinals.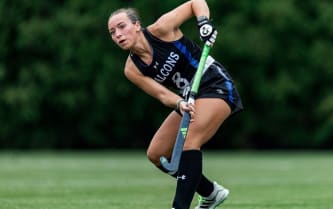 Both sitting at the top of the NE10 standings, Assumption and Bentley will meet in a pivotal conference game on Saturday.
Since their 1-0 overtime loss to No. 6 Saint Anslem, Bentley (8-5, 6-2) went on to win five straight conference matches, only to be stopped in OT by Southern New Hampshire on Wednesday. After registering her third and fourth straight shutouts this past weekend, junior goalkeeper Mia Trottie was named both the NE10 Goalkeeper of the Week and Division II Defensive Player of the Week.
Assumption (9-4, 8-0 NE10) remains perfect in conference play, and are slated to take on Saint Anselm in the last week of the regular season. In their past eight games – which have all been in conference – the Greyhounds have only conceded two goals while tallying 35 goals themselves.
The pair met up earlier this season for a non-conference match-up, where Bentley topped Assumption 3-2 off a pair of goals from Madison Halas. The previous five meetings had been won by the Greyhounds, who are 15-47 in all time meetings.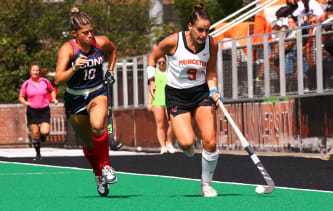 Bedford Field will play host to a top-tier Ivy League matchup on Saturday as two of the league's top four teams — No. 11 Harvard and Princeton — face off.
Harvard (9-3, 4-0) has won four straight games and is unbeaten in Ivy League play. The stretch includes conference wins over Yale and Columbia as well as ranked wins over then-No. 10 Syracuse and No. 14 Saint Joseph's. All three of the Crimson's losses this year have come to ranked teams and by a single goal. A balanced attack has four players with 10-plus points, headlined by Emily Guckian's eight-goal, seven-assist stat line.
Princeton (5-7, 3-1) played a difficult non-conference schedule and it has set them up for success in Ivy League play. The Tigers have three wins in four tries, the lone loss a double-overtime defeat to No. 15 Penn. Robyn Thompson has kept her team in quite a few games — the senior goalie leads the Ivy League in both save percentage (.768) and saves per game (6.33). 
Last year, the Tigers piled up three goals in the first quarter and fought off a Harvard comeback in an eventual 4-2 win.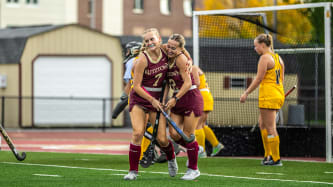 A pivotal PSAC matchup awaits on Saturday in Pennsylvania with No. 3 Kutztown continuing a challenging stretch with a road trip to face No. 7 Mansfield.
Kutztown (9-2, 3-2 PSAC) has enjoyed a prolific start to its season, winning its first six games before a one-goal defeat to No. 1 East Stroudsburg. Three wins followed for a team that boasts the best defense in the country, before falling 3-2 to No. 2 Shippensburg on Tuesday. The Bears lead D-II with nine shutouts in 10 games, a remarkable stretch of dominance. Paired with a scoring average of 4.08 goals per game — third in D-II — and you can quickly see why they've ascended to No. 3 in the rankings.
Mansfield (8-4, 2-2 PSAC) enters with a 2-2 conference record, but a scheduling quirk prevented them from claiming a 2-0 shutout over No. 2 Shippensburg — instead, the 3-2 loss in the rematch factored into their PSAC record. The Mountaineers also came up just short against No. 1 East Stroudsburg, losing 1-0 on a third quarter goal. Alex Esterling has been hard to contain: She has 11 goals and three assists in 12 games for Mansfield.
Kutztown holds a heavy 30-9 advantage in the all-time series, including an 11-game winning streak from 2014 to 2021, but the teams split last year's meetings. Mansfield won the first game, 2-0, before the Bears rebounded with a 3-2 victory.
by NCAA