CHARLOTTE, N.C. – For the first time since April 2022, the No. 16 U.S Women's National Team was back playing on United States soil when they hosted No. 15 Canada at Queens University's Bessant Field this evening. The United Eagles faced a tough opponent in the northern neighbors, but displayed a hard-fought performance that ended in a 3-0 victory.
"Overall, really pleased with the performance," said David Passmore, USWNT Head Coach.
"We played with real physicality intensity, and I think Canada struggled with that. They obviously haven't played for a year, so it's hard for them in that situation, but we really stepped it up, and the good thing was we didn't drop it off once we got in the lead. We kept on putting them under pressure and creating chances. Overall, I think it's created more of a selection headache, which is a great thing as a coach to have, going into the Pan American games."
"Obviously, there's always things to improve. Our second half we didn't win a [penalty] corner, so we need to look at that. But we did create chances and I think the result was reflective of the performance."
The first quarter saw high pressure from USA straight away, an indicator of the energy to come for the rest of the match. At just the 10-minute mark, Ashley Sessa (Schwenksville, Pa.) dribbled through traffic in the circle then wound up for a quick shot that slipped past Canada's goalkeeper Rowan Harris to put USA up 1-0. The goal gave the United Eagles energy that permeated for the rest of the quarter, as they continued to put up offensive pressure and win back turnovers quickly.
Possession evened out slightly in the second frame, with turnovers from both teams that were met with strong defensive lines. USA still held the advantage on possession and attacking penalty corners, testing Harris and the Canada backline. As the second quarter wound down, Canada finally saw a break in the USA's offensive pressure and headed up the field. Their efforts were stopped by USA defenders, who pushed back on the attack. It was just 2 minutes left in the frame when the United Eagles earned another penalty corner that was converted from a beautiful drag flick by captain Ashley Hoffman (Mohnton, Pa.). With little time left, USA kept up their pressure, and Abby Tamer (Dexter, Mich.) produced one final shot – wide of the cage – before the horn sounded for halftime. The United Eagles walked off the field with a 2-0 lead over Canada.
Canada started off the third quarter with renewed energy and were more threatening for the remainder of the match. In an early indication of their eagerness, Canada's captain Natalie Sourisseau was shown a green card in the early minutes. With an athlete up advantage, USA pushed into their attacking circle, but were unable to create any opportunities. Good passing from the backfield from Leah Crouse (Virginia Beach, Va.) to Tamer opened up space for the USA, but a burst of energy from Canada pushed them back into their defensive end. Now in a game of swapped possession, the United Eagles were on the ball and up on attack again as Sanne Caarls (Nieuw-Vennep, Netherlands) sent a shot on goal that was kicked away by Canada's goalkeeper. Despite a few chances for each side, the score remained 2-0 heading into the final quarter.
The final 15 minutes of play saw more of the same as the third, as USA and Canada swapped possession, both looked to break into each other's circles. At 50 minutes in, Linnea Gonzales (Bel Air, Md.) headed up the left side of the field with speed and foced a Canada foul right outside the circle. After nothing materialized, Canada regained possession briefly, but USA was back with vigor just three minutes later when Caarls found an opening and sent a lifted shot into the cage. The goal was USA's third and final of the night, as play winded down without another good chance from either team. The game concluded with a 3-0 USA victory.
The second match of the two-part series will take place this Sunday, September 10 at 5:00 p.m. ET at Queens University of Charlotte's Bessant Field in Charlotte, N.C. Both teams are utilizing the series to prepare for the upcoming Pan American Games in Santiago, Chile in October.
For more information regarding the USWNT vs. Canada series, visit the event page.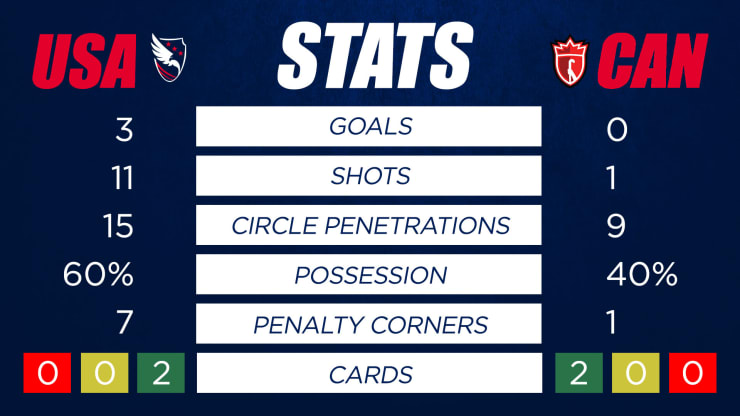 All photographs appearing on this site are property of USA Field Hockey. They are protected by the U.S. Copyright Laws, and are not to be downloaded, reproduced or used in any way without written permission of USA Field Hockey.
If you are a college SID, club coach, sponsor or media outlet, email communications@usafieldhockey.com.
by NCAA