Great Britain 2 Germany 0
A much improved performance earned Great Britain a 2-0 win in the second match of their home FIH Pro League doubleheader against Germany at Lee Valley Hockey and Tennis Centre. In contrast, Die Danas will be disappointed having won 3-2 just twenty-four hours earlier.
Great Britain made one change, Amy Costello replacing Jo Hunter in the squad, whilst Germany replaced two players, Lisa Nolte and Emma Davidsmeyer coming in for Liv Arndt and Lara Birkner.
The first quarter was devoid of goal action with neither team mustering a shot, instead concentrating on trying and largely failing to break down their opposition defence.
In the second quarter, Great Britain tried to mount attacks down the right sideline, but it was testament to both teams' performance that the first shot of the match came from a set piece, Anna Toman's effort coming from the hosts' first penalty corner.
The corner ultimately was the first of a sequence of seven straddling the 22nd and 23rd minutes and which was only prolonged after Great Britain successfully video referred their sixth award, Janne Müller-Wieland falling on top of Ellie Rayer directly in front of goal, the foul leading to a seventh corner.
And it was seventh time lucky as Toman, having had the first shot of the sequence, had the last, German defender Nele Aring deflecting the ball past a helpless Nathalie Kubalski to put Great Britain ahead.
36 seconds before half time, and shortly after Germany had been reduced to ten players after Jette Fleschütz saw green, Great Britain doubled their lead, once again courtesy of a visiting defender. Sarah Robertson, from the centre of the circle, slipped the ball to her left where Susannah Townsend was waiting to fire the ball towards goal, Davidsmeyer the unlucky defender on this occasion.
There was drama as the first half expired, Lena Micheel successfully winning a penalty corner after a video referral revealed that the ball had touched Toman's back stick. After a dominant performance on Wednesday night, Germany were still waiting for the first shot on goal in game 2 and it was Micheel who obliged, only for the shot to go wide of the left post.
Germany nearly experienced dêja-vu as for the second match running, they almost conceded a goal quickly after half time. Sarah Evans, named as the Player of the Match, saw her shot deflected off Hanna Granitzki's stick and wide of the left post after Toman crossed from the right.
Evans went close again in the 38th minute, forcing a fine save from Kubalski and Amelie Wortmann caused an anxious moment for home goalkeeper Maddie Hinch when the ball went narrowly past the right post.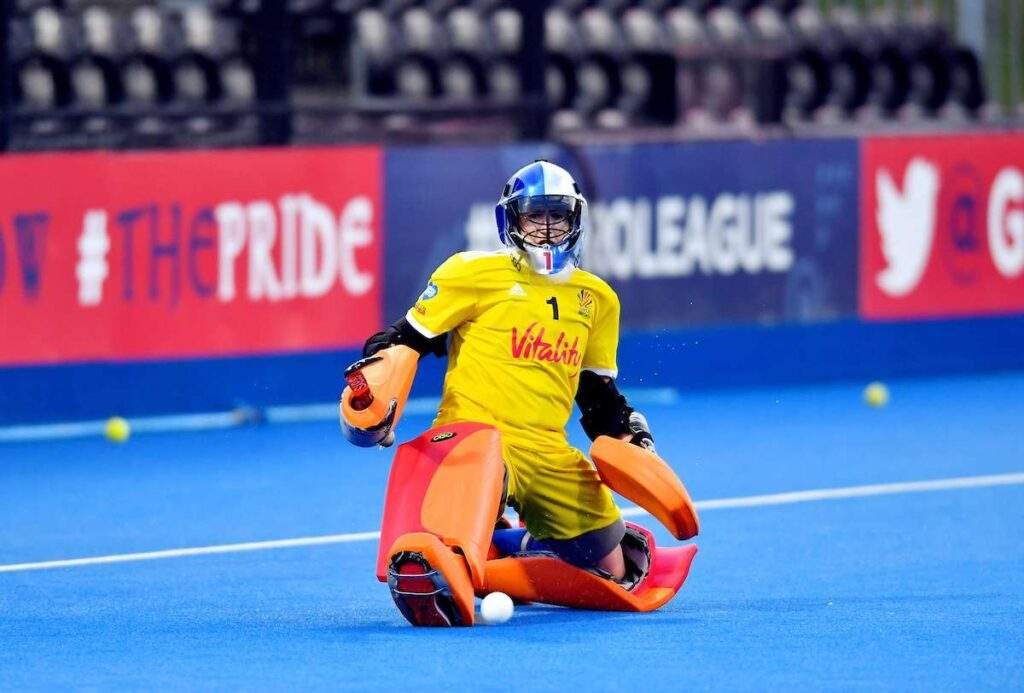 The hosts also had Fiona Crackles to thank after Fleschütz, back on the pitch, made a threatening run into the circle. but Germany remained two goals in arrears going into the fourth quarter.
Evans forced yet another save from Kubalski in the 47th minute after a turnover by Müller-Wieland, but Germany recovered to put the home defence under pressure in the circle with Toman staying calm to relieve that pressure.
Rayer dispossessed Aring but could only cross the ball across the circle before the visitors won their second penalty corner of the match via a video referral. Micheel instantly claimed that Giselle Ansley had touched the ball with her foot, but Great Britain kept their referral and Germany kept their penalty corner after no advice was deemed possible.
Captain, Charlotte Stapenhorst, who had inherited the armband from Wortmann, could only force a save from Hinch. Germany elected to go with eleven outfield players for the final four minutes an twenty-four seconds but could do nothing to prevent Great Britain avenging the previous day's defeat.
Great Britain next face the USA in a doubleheader at Lee Valley on 22 (push back 12 noon) and 23 May (push back 1 pm).
Great Britain:
Scorers: Anna Toman 23-PC, Susannah Townsend 30-F
Starters: Maddie Hinch (GK), Laura Unsworth, Sarah Evans, Susannah Townsend, Ellie Rayer, Giselle Ansley, Hollie Pearne-Webb (Capt.), Shona McCallin, Amy Costello, Izzy Petter, Fiona Crackles.
Subs: Leah Wilkinson (4 mins), Lily Owsley (4), Grace Balsdon (4), Sarah Jones (5), Sarah Robertson (8), Anna Toman (16).
Sub not used: Sabbie Heesh (GK).
Cards: None
Germany:
Starters: Amelie Wortmann, Lena Micheel, Charlotte Stapenhorst (Capt.), Janne Müller-Wieland, Nathalie Kubalski (GK), Maike Schaunig, Franzisca Hauke, Viktoria Huse, Hanna Granitzki, Pauline Heinz. Lisa Nolte.
Subs: Emma Boermans (4), Jette Fleschütz (4 mins), Nele Aring (7), Emma Davidsmeyer (8), Katharina Kiefer (8), Teresa Martin-Pelegrina (9).
Sub not used: Julia Sonntag (GK).
Cards: Green: Jette Fleschütz (30 mins), Emma Boermans (37 mins), Charlotte Stapenhorst (45 mins).
Umpires: Hannah Harrison (ENG) and Sarah Wilson (SCO).
Report: Colin Pike
13 May 2021
FIH Pro League – Women