Olympic Games – Pool A
Great Britain 0 Netherlands 1
Great Britain missed out on the opportunity to book their place in the last eight after slipping to a 1-0 defeat to the Netherlands at the Oi Hockey Stadium.
Great Britain face Ireland on 31 July at 1245 in their last pool game and will know what they need to do to qualify, or whether they are already in the quarter-finals.
The Netherlands Head Coach, Alyson Annan will likely be disappointed with her team's performance, failing to score from nine penalty corners and having to rely on Frédérique Matla's 13th minute penalty stroke to secure the three points.
On the offensive from the start, the Netherlands thought they had forced a first penalty corner in the second minute, but the decision was immediately rescinded.
Great Britain were put under pressure in the first quarter with Maddie Hinch having to save from Marloes Keetels and Maria Varschoor in the second and sixth minutes respectively. The reigning Olympic champions also managed to defend three penalty corners with Matla, Lidewij Welten and Caia van Maasakker all denied and Laura Nunnink shooting off target.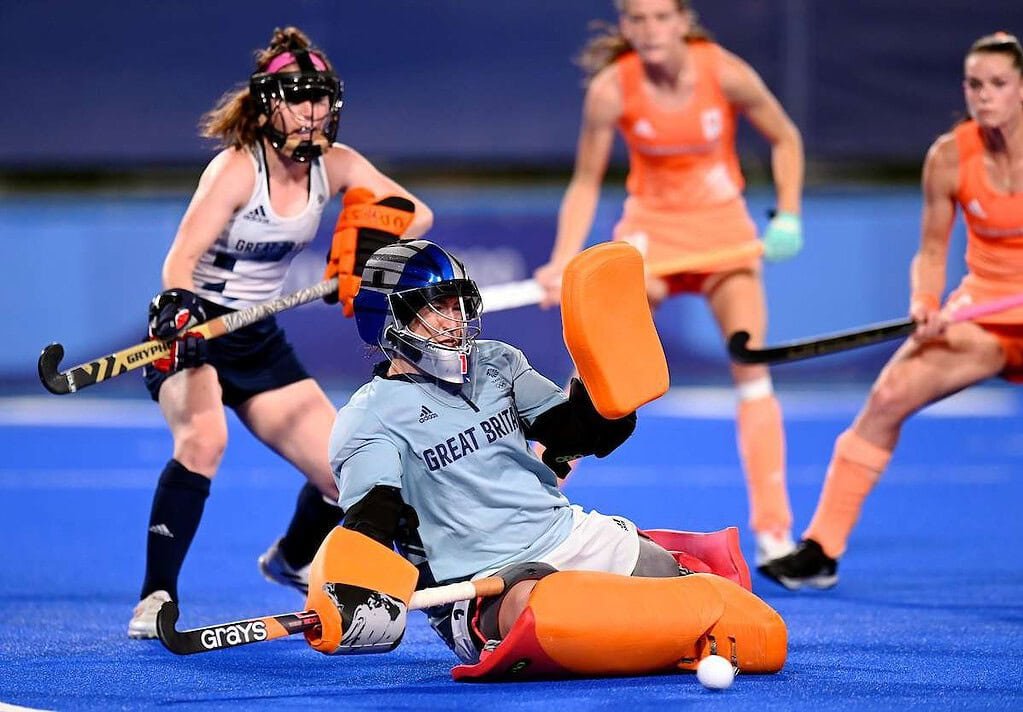 Their hard work was undone in the 13th minute when Great Britain captain Hollie Pearne-Webb clashed with Welten, resulting in a penalty stroke being awarded. In challenging the decision, Great Britain lost their right to a video referral and Matla dispatched the stroke to Hinch's right to give the Netherlands the lead.
Great Britain couldn't muster a single shot on goal or circle penetration in the first fifteen minutes and had to wait until the 24th minute to mount a scoring chance, Giselle Ansley's penalty corner shot rising over the bar. Two further awards also ended in disappointment with the injection not trapped and almost setting up a Dutch counter attack from the first and the second seeing Ansley's shot saved by Josine Koning with the rebound striking Sarah Robertson's foot at the left post.
After just 32 seconds, the Netherlands forced another penalty corner with Lauren Stam having her shot saved and followed up three minutes later with Laurien Leurink shooting over the bar from open play.
There was a worrying incident in the 38th minute when Stam clashed heads with Ellie Rayer, resulting in both players having to leave the pitch, Rayer subsequently being diagnosed with a broken nose, which will require assessment before the match with Ireland.
Hinch brilliantly saved from Malou Pheninckx from another penalty corner, whilst Koning responded in kind from Anna Toman, with Leah Wilkinson unable to finish off the routine.
In the fourth quarter, the Netherlands ramped up their penalty corner pressure, with van Maasakker and Eva De Goede both denied.
Great Britain were denied a penalty corner opportunity with two minutes to play when the Netherlands successfully reversed the decision by using their video referral and their last chance fell to Fiona Crackles who made their only shot from open play in a match in which no cards were shown.
Before Saturday's last round of matches, South Africa will play Germany and Ireland will face India on Friday.
Great Britain:
Starters: Maddie Hinch (GK); Laura Unsworth, Anna Toman, Sarah Jones, Susannah Townsend, Sarah Robertson, Ellie Rayer, Giselle Ansley, Hollie Pearne-Webb (Capt.), Shona McCallin, Lily Owsley.
Subs: Izzy Petter (3 mins), Fiona Crackles (3), Hannah Martin (4), Leah Wilkinson (4), Grace Balsdon (4).
Cards: None
Netherlands:
Scorer: Frédérique Matla 13-PS
Starters: Xan de Waard, Marloes Keetels, Felice Albers, Lidewij Welten, Caia van Maasakker, Frédérique Matla, Pien Sanders, Lauren Stam, Josine Koning (GK), Margot van Geffen, Eva de Goede (Capt.).
Subs: Malou Pheninckx (3 mins), Sanne Koolen (4), Laurien Leurink (4), Maria Verschoor (4), Laura Nunnink (7).
Cards: None
Umpires: Michelle Joubert (RSA) and Aleisha Neumann (AUS)
(506 words)