Vitality Women's Hockey League Premier Division Review – 16 October 2021
Hampstead & Westminster won 4-3 at Buckingham to maintain both their one hundred per cent record and their six point lead at the top of the Vitality Women's Hockey League Premier Division table.
Amazingly, the game was goalless for the first 48 minutes before Jo Day gave Buckingham the lead in the 49th minute. Hampstead immediately replied in the same minute and they went ahead in the 51st minute, both goals scored by Lauren Turner. With the momentum with Hampstead, Melanie Wilkinson added a third goal in the 57th minute and Lucy Hyams a fourth with five minutes remaining, but Buckingham fought back, Natasha James scoring twice in the 66th and 70th minutes before Buckingham ran out of time to salvage a point and remain unbeaten. All three Premier Division meetings between the teams have been won by the away side.
Wimbledon took advantage of East Grinstead's week off to move into second with a 6-0 home thrashing of Beeston. Wimbledon led 5-0 at half time, Eliza Brett scoring twice with goals in the 5th and 17th minutes, Sarah Jones also notching a brace in the 21st and 26th minutes and Suzy Petty scoring in the 11th minute. The only goal of the second half came with two minutes remaining, Brett completing the first hat-trick in the Premier Division to join Hampstead's Turner as joint leading goalscorer on five goals.
Surbiton also moved above East Grinstead into third with a 4-1 win at the University of Birmingham, thanks to three second half goals. Leah Wilkinson gave Surbiton the perfect start in the third minute, only for Millie Giglio to level for the hosts in the 12th. Sophie Hamilton's double in the 47th and 61st minutes, either side of Maddie Long's goal in the 48th minute gave Surbiton their third successive win in Birmingham.
Loughborough Students moved off the bottom of the table with a narrow 1-0 home win over struggling Holcombe. Beth Alexander's 37th minute goal proved the difference between the sides as Loughborough won for the third time against Holcombe in four top flight meetings.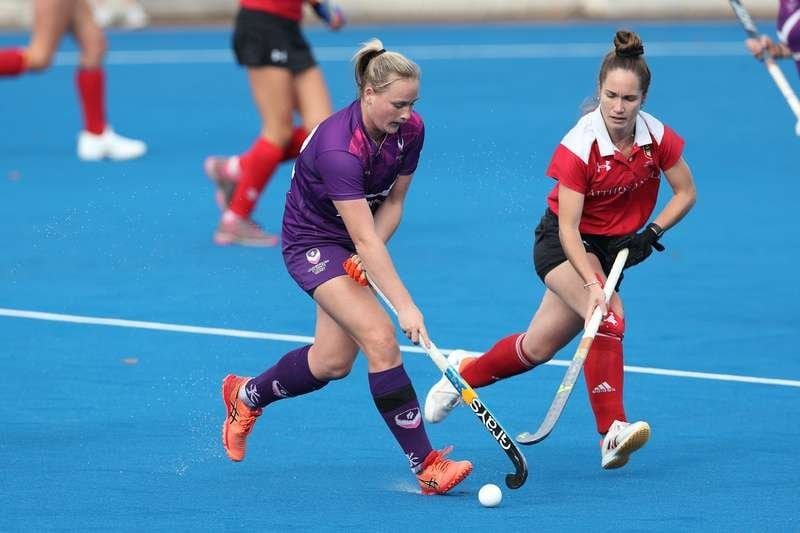 Last season, Clifton Robinsons won 3-0 at Swansea and in 2021-22 they returned to Wales and won again, this time 2-1. Ashley Mainwaring put Clifton ahead in the 7th minute with Claire Jones doubling the visitors' advantage two minutes before the break. Beth Wood gave Swansea hope two minutes into the second half, but Clifton secured their first win of the campaign, with Swansea dropping to the bottom of the table, a point behind Holcombe.