Olympic Games – Pool A
Ireland 0 Great Britain 2
Ireland's inaugural Olympic campaign ended in tears at the pool stage after Great Britain won 2-0 at the Oi Hockey Stadium to ensure that Ireland would finish fifth in Pool A and that Spain would be Great Britain's quarter-final opponents at 1300 BST on Monday, 2 August.
The damage had been done when India beat Ireland 1-0 in a rain delayed game on 29 July, the only goal coming three minutes of time. India defeated South Africa 4-3 earlier on Saturday to set Ireland a target of beating Great Britain to progress to the last eight, but the odds were always against the World Ranked 12th team when playing the reigning Olympic Champions.
Nicci Daly made her 200th international appearance for Ireland whilst Anna Toman won her 50th Great Britain cap in the last pool game of the tournament.
GB's Rayer plays with broken nose
Ellie Rayer, passed fit to play after breaking her nose against the Netherlands, caused problems early for the Irish defence after combining with Sarah Jones.  A third minute penalty corner was spectacularly defended as Giselle Ansley's drag-flick was dealt with by Lena Tice and five minutes later, Roisin Upton needed treatment for an arm injury after coming into contact with a shot from Toman.  Toman was also denied from the reaward.
Ireland were kept under pressure at the start of the second quarter, facing a succession of three penalty corners. After defending the first two, they were undone by the third in the 17th minute, Grace Balsdon's drag-flick well saved by Ayeisha McFerran, only for the ball to rebound to Susannah Townsend at the left post to poke home at the second attempt.
Daly forced an excellent save from Maddie Hinch in the 24th minute, but Great Britain came close to doubling their lead right on half time when Sarah Robertson crossed from the right, Izzy Petter only able to push the ball the wrong side of the left post when diving towards the goal.
Ireland's hopes of qualifying suffered a serious setback two minutes into the second half, Fiona Crackles attacking down the right wing and passing to Ellie Rayer to cross the ball for Hannah Martin to score at the left post to double Great Britain's lead. The goal was only awarded after an umpire video referral confirmed that there had been no backstick involved and left Ireland with a mountain to climb.
Upton was instrumental in blocking another Toman drag-flick from Great Britain's seventh penalty corner and Ireland's frustration continued as Sarah Hawkshaw's attempt on goal was defused by Leah Wilkinson.
McFerran was called on to palm Rayer's shot over the bar, with Ireland needing to score three goals without reply in the final quarter to complete an Olympic miracle.
Ireland lost their right to a video referral within two minutes of the start of the fourth quarter with Great Britain continuing to set their sights on goal, Shona McCallin's shot going wide of the right post and Crackles forcing a long corner.
Ireland's frustration continued as a cross from the right went harmlessly past the British goal and Katie Mullan fell while aiming a shot on goal. Ireland's last throw of the dice came with just over five and a half minutes when McFerran was sacrificed for an eleventh outfield player.
The tactic didn't work and Martin was even able to risk Great Britain's video referral with just 25 seconds remaining with no real penalty when the referral was refused.
The 2018 World Cup finalists can now reflect on their performance in Tokyo and prepare for the future, while Great Britain will meet Spain in the last eight for the second successive Olympiad, having won 3-1 in Rio on their way to winning Gold.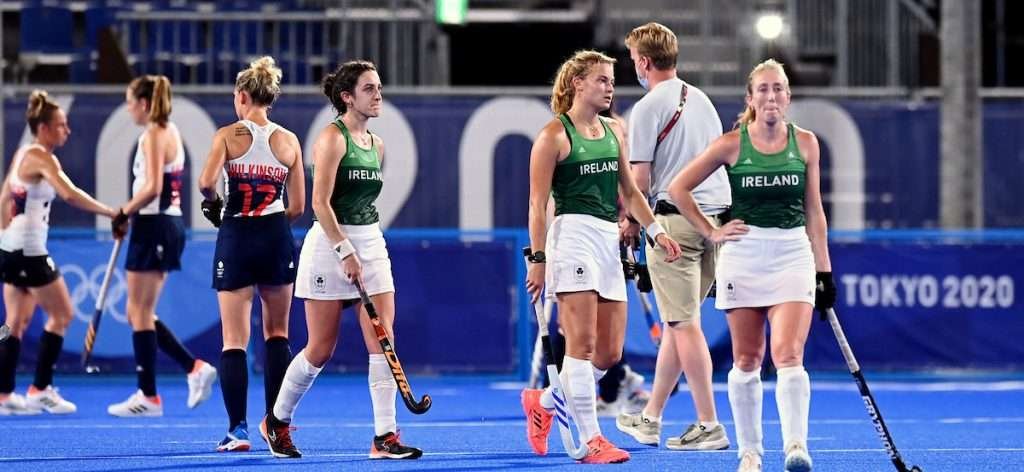 Ireland
Starters: Ayeisha McFerran (GK); Chloe Watkins, Sarah Torrans, Roisin Upton, Deirdre Duke, Katie Mullan (Capt.), Shirley McCay, Sarah Hawkshaw, Lena Tice, Sarah McAuley, Anna O'Flanagan.
Subs: Hannah McLoughlin (4 mins), Lizzy Holden (4), Zara Malseed (4), Nicci Daly (5), Hannah Matthews (6).
Cards: Green: Hannah Matthews (44 mins). Yellow: Roisin Upton (58 mins).
Great Britain
Scorers: Susannah Townsend 17-PC, Hannah Martin 32-F
Starters: Maddie Hinch (GK); Laura Unsworth, Anna Toman, Sarah Jones, Susannah Townsend, Sarah Robertson, Ellie Rayer, Giselle Ansley, Hollie Pearne-Webb (Capt.), Shona McCallin, Lily Owsley.
Subs: Hannah Martin (3 mins), Leah Wilkinson (3), Izzy Petter (4), Fiona Crackles (4), Grace Balsdon (4).
Cards: Green: Laura Unsworth (35 mins). Yellow: Izzy Petter (48 mins).
Umpires:
Carolina de la Fuente (ARG) and Emi Yamada (JPN)