EuroHockey Championship – Women Pool B
England 0 Germany 2
England will need to beat Belgium in their final pool game to reach the semi-finals of the EuroHockey Championships after they slid to a 2-0 defeat to Germany in Amstelveen.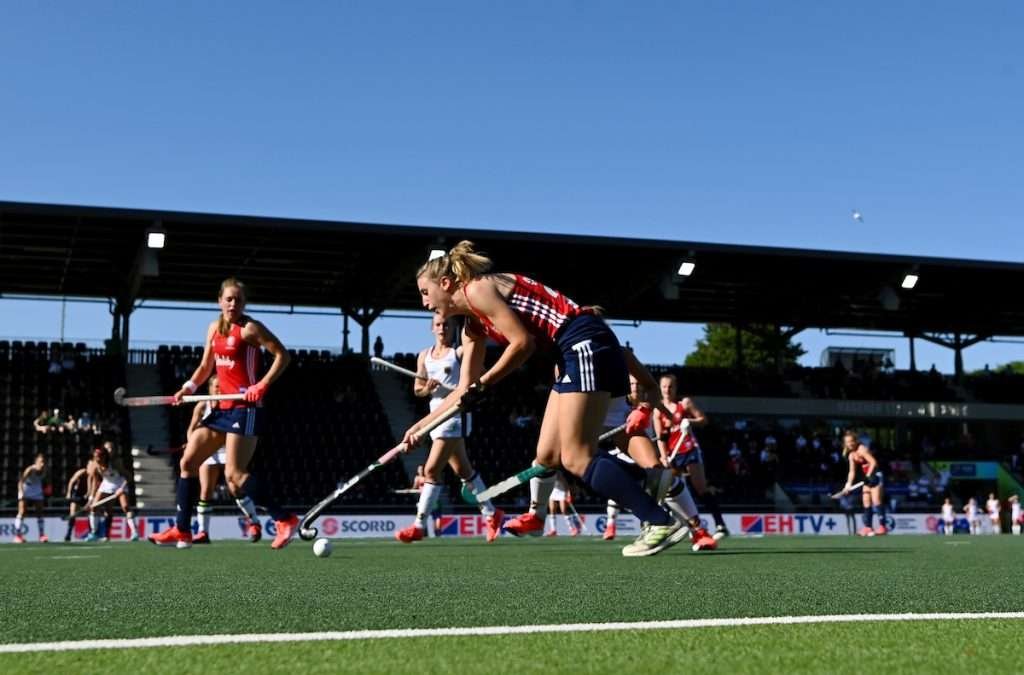 Belgium matched England's 4-0 scoreline against Italy and go into the final round of matches as Pool B leaders ahead of Germany on goal difference and a point ahead of England, thanks to their earlier 1-1 draw with Germany.
England captain, Hollie Pearne-Webb celebrated her 100th England cap, but had nothing else to celebrate on the pitch as Germany got their tactics right and were able to cope with having a goal disallowed.
England began brightly with Germany's Hanna Granitzki using her arm twice to try and disrupt Ellie Rayer's attack down the right wing early on, shortly followed by Anna Toman's effort from England's first penalty corner of the match in the sixth minute.
Granitzki's physical play and Fiona Crackles' two minutes visit to the sin-bin in the seventh minute, began to draw comparisons with Germany's visit to Lee Valley in the FIH Pro League on 12 May, when Germany won 3-2 against Great Britain.
Although Granitzki wasn't carded in Amstelveen, she had been sent to the naughty step in May, two minutes before Crackles. And just as at Lee Valley, Germany immediately took advantage of Crackles' absence from the pitch, Sonja Zimmerman converting Germany's first penalty corner in the eighth minute. Zimmerman's first shot on goal was saved by England goalkeeper, Maddie Hinch before the rebound worked its way back to Zimmerman to make no mistake at the second time of asking.
Less than a minute later, Germany won a second penalty corner with Cecile Pieper's shot aimed for the left post where Pia Maertens' overhead stick just failed to deflect the ball into goal.
Germany had a third award towards the end of the first quarter but Lena Micheel's shot went past the right post.
Within a minute of the start of the second quarter, penalty corner opportunity number four arrived for Germany and this time, Zimmerman, who had not been on the pitch for the third award, couldn't work her magic as England defended.
In the 20th minute, Germany had a goal disallowed after Pieper threaded the ball through to Charlotte Stapenhorst, who ran into the England 23 and on into the circle, evading challenges from Pearne-Webb and Lizzie Neal before rifling a spectacular shot which gave Hinch no chance on its way to goal. Sadly, the brilliant effort was ruled out after an England video referral revealed a backstick offence.
As time ran out in the first half, Pieper caused the English defence more problems with Giselle Ansley having to make a last second clearance to ensure England turned round just one goal in arrears.
In the May encounter in London, Jette Fleschütz had scored her first goal for her country and her second goal was stunning, a finish from the right of the circle which gave Hinch no chance on its way to the top left corner in the 32nd minute and was more than adequate compensation for Stapenhorst's ruled out effort.
Germany forced a further four penalty corners in the third quarter as they continued to pile pressure on the England defence. In the 42nd minute, their eighth penalty corner led to Kira Horn being shown a green card for putting the ball into the goal at the right post after the whistle and to add insult to injury, Germany lost their right to a video referral immediately afterwards after a judgment was made that there had been no danger.
England had lost their video referral with twenty minutes to play looking for a non-existent foot in the circle. The final six minutes proved to be an anti-climax as Ansley's shot was wide of the goal from their second penalty corner; Maddie Hinch was replaced by an eleventh outfield player with six minutes and twenty-five minutes left and fourteen seconds later, Crackles nullified the advantage as she received a yellow card, just as had happened at Lee Valley in May.
Germany saw out the rest of the match comfortably to leave England needing a win when they play Belgium on 9 June (1600 BST).
England:
Starters: Maddie Hinch (GK); Laura Unsworth, Sarah Evans, Anna Toman, Susannah Townsend, Ellie Rayer, Giselle Ansley, Hollie Pearne-Webb (Capt.), Lily Owsley, Grace Balsdon, Izzy Petter.
Subs: Erica Sanders (4 mins), Jo Hunter (4), Fiona Crackles (4), Esme Burge (5), Lizzie Neal (5), Catherine Ledesma (47).
Sub not used: Sabbie Heesh (GK).
Cards: Green: Fiona Crackles (7 mins), Ellie Rayer (27 mins). Yellow: Fiona Crackles (55 mins).
Germany:
Scorers: Sonja Zimmerman 8-PC, Jette Fleschütz 32-F
Starters: Kira Horn, Amelie Wortmann, Nike Lorenz, Selin Oruz (Capt.), Anne Schröder, Charlotte Stapenhorst, Julia Sonntag (GK), Pia Maertens, Viktoria Huse, Jette Fleschütz, Hanna Granitzki.
Subs: Lisa Altenburg (2 mins), Lena Micheel (3), Cecile Pieper (3), Sonja Zimmerman (4), Maike Schaunig (4), Franzisca Hauke (4).
Sub not used: Nathalie Kubalski (GK).
Cards: Green: Jette Fleschütz (26 mins), Kira Horn (42 mins), Franzisca Hauke (53 mins).
Umpires: Ivona Makar (CRO) and Alison Keogh (IRL)