Great Britain once again proved that it's the statistic in the top left corner of your screens that count, as they entertained Germany for the second time in two days at the Lee Valley Hockey & Tennis Centre in London.
The general game statistics afterwards spoke in favour of Germany. However, the youthful-looking German side, fielding no less than nine players from its under 21 ranks, will be departing London City Airport empty-handed after two matches. Individual fouls were punished hard by Great Britain, who took full advantage of several senior German players missing, due to the league finals being played in the Netherlands and Germany, to gain some vital momentum, and world ranking points, ahead of the European Championship and Olympics that are on the horizon.
Great Britain followed up their 5-3 win on Wednesday by defeating their visitors 3-1. Two matches that would have been the final chance for the players to prove themselves ahead of the Olympic Squad being selected later today.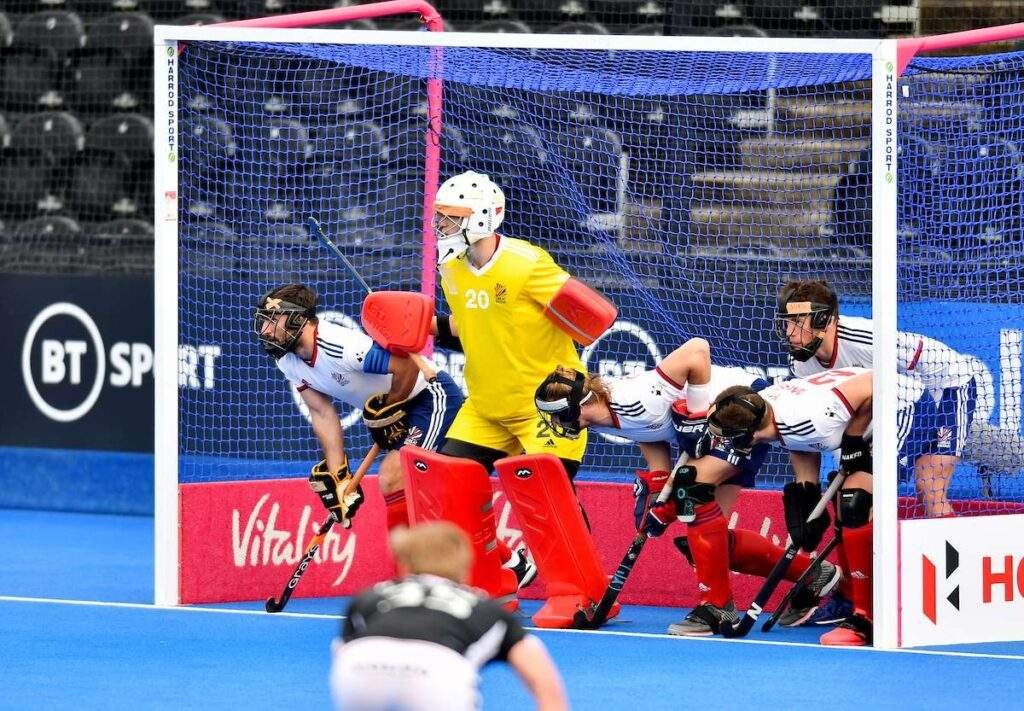 Only one stat counts for Great Britain
When we look at the stats of the match, the Olympic bronze medalists will leave disappointed. Germany won four penalty corners, compared to zero for Great Britain. In addition, Kais al Saadi's side forced almost twice as many circle penetrations and shots. However, it resulted in just the one goal scored by Niklas Wellen shortly before the final whistle. With Germany missing their talismen of Christopher Ruhr and Florian Fuchs, competing in the German final with Rot Weiss Koln and Dutch final with Bloemendaal, any firepower they had was greatly diminished by the hard-working GB defence and outstanding performance of the young Ollie Payne in goal.
Wellen's goal came too late to prevent a defeat. Great Britain was already leading 3-0, and with time running out, it was no more of a consolation goal for the visitors.
Christopher Griffiths' opening goal fell midway through the second quarter. The German defence failed to clear the ball properly after a save by goalkeeper Victor Aly. Griffiths was fastest to react with a shot off the back foot on the turn.
Just before halftime, Alan Forsyth doubled the lead after Raphael Hartkopf had missed a good chance at the other end to force the equalizer. It was soon 2-0, with the ball falling to Alan Forsyth in the area. You'd be brave to bet against any outcome other than a goal with the Scotsman in such great form from a quick counterattack. Germany again came close to finding the net as Thies Prinz deflected onto the bar from a penalty corner. In the third quarter, Rupert Shipperley put the third British goal on the board from a well-played counter which effectively put the game to bed for the hosts in a match that was slightly overshadowed with a nasty looking injury to Phil Roper.
Great Britain-Germany 3-1 (2-0)
24 ′ Christopher Griffiths 1-0
29 ′ Alan Forsyth 2-0
54 ′ Rupert Shipperley 3-0
58 ′ Niklas Wellen 3-1