FIH Pro League – Women
Great Britain 5 USA 1
Great Britain were completely dominant as they claimed maximum points from their penultimate FIH Pro League game with a comprehensive 5-1 victory against the USA at Lee Valley.
The USA came to London after 3-0 and 6-1 defeats to Belgium in Antwerp last weekend, whilst Great Britain had had mixed fortunes against Germany in their last two home games, losing 3-2 before coming out on top 2-0 in the second match.
After the last World Rankings, issued during a Pro League season which has been severely disrupted due to COVID-19, Great Britain inherited England's fifth ranking with the USA ranked 15th in the global standings.
USA Coach, Anthony Farry made five changes from the matchday squad which had lost 6-1 in Antwerp. Taylor West, Nicole Woods, Madeleine Bacskai, Miranda Rigg and Alexandra Hammel came in for Virginia Bramley, Ali Campbell, Madison Maguire, Julianna Tornetta and Jillian Wolgeumuth as Farry shuffled the pack to try and obtain a better result.
Only goalkeepers Kelsey Bing and Kealsie Robles, who replaced Bing at half time, prevented Great Britain from attaining a double figure goal tally as both keepers worked hard between the posts to repel the hosts' attacks.
The USA conceded a penalty corner after just 28 seconds, Giselle Ansley's shot deflected for a long corner as an early indication of the tough task ahead for the visitors. The only major early threat from the USA came from a long pass by Lauren Moyer which was dealt with by Anna Toman at the expense of a long corner.
Bing made a double save in the seventh minute with Great Britain ramping up the pressure in the first quarter by forcing a further two penalty corners which were defended.
Just as it seemed that the first quarter would be goalless, Izzy Petter broke the deadlock with just twenty seconds left, Lily Owsley bearing down on goal before slipping the ball to her right for Petter to find the backboard in defiant fashion in a one on one situation with Bing.
The USA failed to make a single circle penetration in the first fifteen minutes and Great Britain gave Bing further work to do in the second quarter with saves from Sarah Evans, Ellie Rayer after a long run starting in her own half and Petter following exquisite possession skills in the circle.
In the final minute before half time, Great Britain forced three more penalty corners and it was Petter who obliged 27 seconds before the break with a neat deflection from Grace Balsdon's drag-flick from the third to double the lead.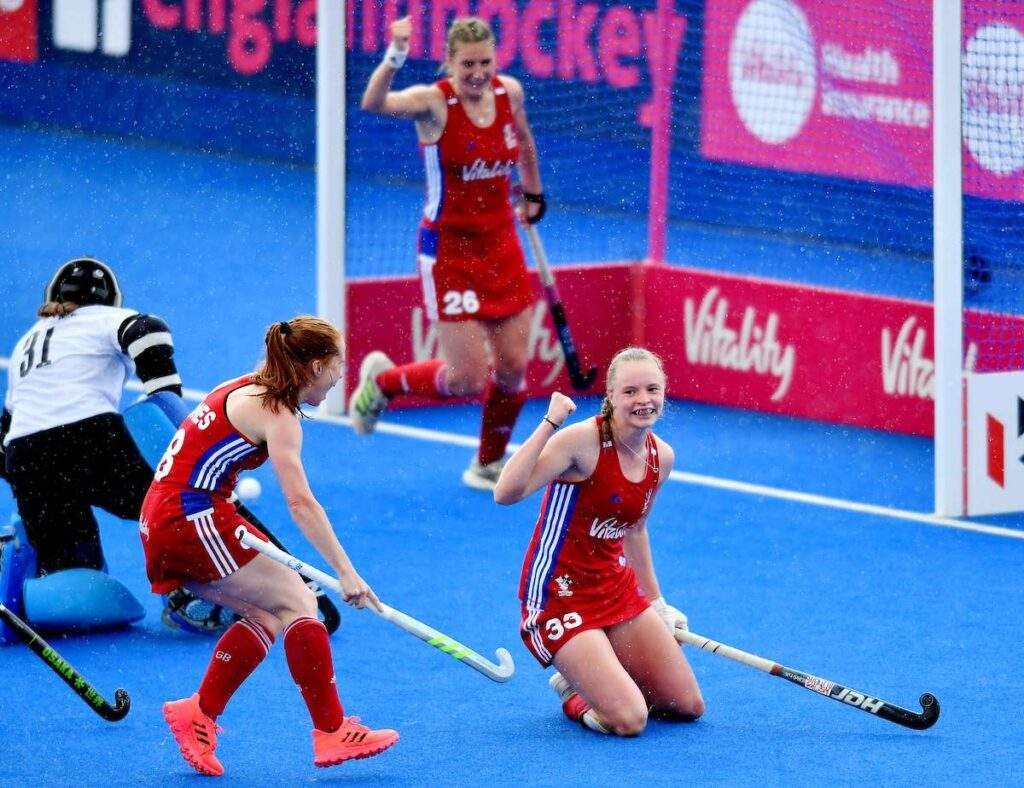 Petter went close to notching a hat-trick three minutes into the third quarter with a rising shot past the left post. Four minutes later, Sarah Robertson timed her run perfectly to poke the ball home just inside the right post after Fiona Crackles' run along the left USA backline, for a three goal advantage.
By this point the USA were struggling to survive against the hosts' incessant attacks and Anna Toman scored Great Britain's fourth goal from their seventh penalty corner in the 41st minute, the ball deflected past Robles off Woods' stick.
With ten minutes remaining, Robles in trying to make a save pushed the ball onto the body of Bacskai, only for the ball to fall perfectly for Rayer to add goal number five.
To their credit, the USA only conceded two goals from the ten penalty corners Great Britain were awarded, Linnea Gonzales particularly adept in defending when the hosts slipped the ball during their routine. As in the second game in Antwerp, the USA scored a consolation goal, Kelsey Briddell lifting the ball over Maddie Hinch from their second and final penalty corner of the match after Hinch initially saved from Haley Randall in the 57th minute.
Great Britain:
Scorers: Izzy Petter 15-F, 30-PC; Sarah Robertson 37-F, Anna Toman 41-PC, Ellie Rayer 50-F
Starters: Maddie Hinch (GK); Laura Unsworth, Anna Toman, Sarah Jones, Sarah Robertson, Ellie Rayer, Giselle Ansley, Hollie Pearne-Webb (Capt.), Shona McCallin, Lily Owsley, Fiona Crackles.
Subs: Sarah Evans (3 mins), Izzy Petter (3), Leah Wilkinson (4), Susannah Townsend (5), Grace Balsdon (5),
Sub not used: Sabbie Heesh (GK), Amy Costello.
Cards: None
USA:
Scorer: Kelsey Briddell 57-PC
Starters: Lauren Moyer, Danielle Grega, Taylor West, Amanda Magadan (Capt.), Nicole Woods, Karlie Heistand, Laura Hurff, Haley Randall, Kelsey Bing (GK), Madeleine Backsai, Kelsey Briddell.
Subs: Alyssa Parker (3 mins), Miranda Rigg (4), Linnea Gonzales (5), Mary Barham (6), Alexandra Hammel (6), Elizabeth Yeager (9), Kealsie Robles (31).
Cards: Green: Danielle Grega (32 mins), Taylor West (55 mins).
Umpires: Sarah Wilson (SCO) and Alison Keogh (IRL).