EuroHockey Championship – Women Pool C
Scotland 3 Italy 1
Scotland won their first match at the EuroHockey Championships in Amstelveen, soaking up Italian pressure in the first quarter before scoring twice in the second to set up the victory.
Scotland had last met Italy in a feisty EuroHockey Championships II final in Glasgow in 2019, Scotland winning 2-1 in a match which saw Italian captain Chiara Tiddi red carded.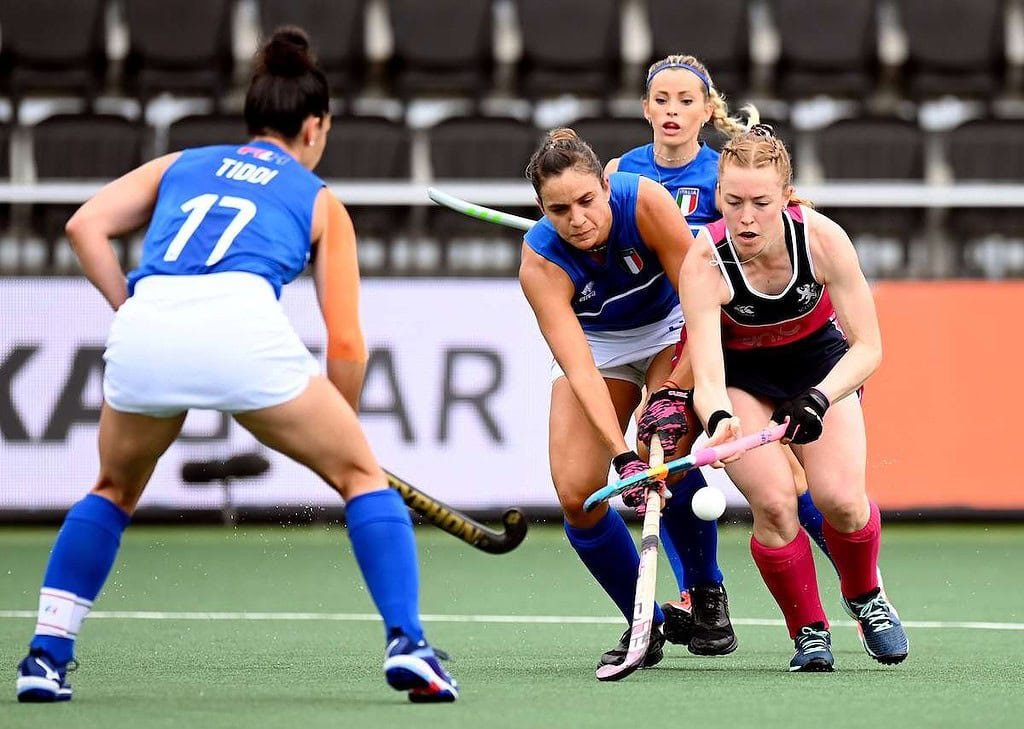 Italy set out to avenge that defeat as they had the better of the first quarter, starting goalkeeper Amy Gibson made to work hard making two separate saves from Federica Carta, another from Sofia Laurito with Emilia Munitis also shooting past the right post.
At the start of the second quarter, Nicki Cochrane was unlucky as from her first touch as Scotland's replacement goalkeeper, her kicked clearance was judged dangerous and led to Italy's first penalty corner of the match. A mistrap caused a routine breakdown and a Scottish counter attack from which Fiona Burnet couldn't take advantage.
But Scotland needn't have worried as in the 17th minute they won their first penalty corner from which Robyn Collins slipped the ball left for Bronwyn Shields to score her first goal for her country on only her fourth international appearance.
Although the goal came against the run of play, four minutes later, Scotland doubled their advantage, Burnet passing the ball for Sarah Robertson to score Scotland's first goal of the tournament from open play.
In the 22nd minute, Italy had the opportunity to pull a goal back after successfully using their video referral to earn their second penalty corner, but although Sara Puglisi finished from the left post, the goal was ruled out due to a foul during the routine.
Italy were not so successful a minute later as they lost their video referral asking for a foot in the circle and were clearly disappointed when the decision went against them. Italy went close again five minutes before half time when Munitis fired past the right post after Cochrane forced her wide of the goal.
The third quarter was scoreless, but although Italy started well after half time, a run from her own half by Sarah Jamieson eased the pressure. Towards the end of the quarter, Scotland had two chances to extend their lead: Jamieson setting up a chance for Fiona Semple to send a shot wide of the left post and Robertson clipping the right post.
Scotland effectively clinched their win in the 47th minute when McKenzie Bell scored their third goal. Italy in an intense attempt to get back into the match forced five penalty corners in the fourth quarter, scoring their consolation goal from their fifth of the match, Laurito finally scoring the Italians' first goal of the tournament after three successive 4-0 defeats.
Italy sacrificed goalkeeper, Sofia Monserrat for an eleventh outfield player with five and a half minutes remaining, but the tactic failed to help them reduce the deficit further.
Scotland lost their video referral challenging Italy's sixth penalty corner, but with only 45 seconds remaining, the loss didn't have any significant effect on the game, Italy also failing to score from a seventh award before the hooter sounded to confirm Scotland's win.
Scotland will face old rivals England on Saturday at 1745 BST, England having beaten Ireland 5-1 in the other Pool C game to move into the driving seat of the group.
Scotland:
Scorers: Bronwyn Shields 17-PC, Sarah Robertson 21-F, McKenzie Bell 47-F.
Starters: Jen Eadie, Laura Swanson, Becky Ward, Amy Costello, Sarah Robertson, Charlotte Watson, Sarah Jamieson, Emily Dark, Kate Holmes, Bex Condie (Capt.), Amy Gibson (GK).
Subs: Fiona Semple (4 mins), Bronwyn Shields (4), Robyn Collins (4), Louise Campbell (6), McKenzie Bell (6), Fiona Burnet (6), Nicki Cochrane (16).
Cards: Green: Sarah Robertson (58 mins).
Italy:
Starters: Sofia Monserrat (GK); Teresa Dalla Vittoria, Ailin Oviedo, Sofia Maldonado, Pilar De Biase, Chiara Tiddi (Capt.), Federica Carta, Constanze Aguirre, Sara Puglisi, Sofia Laurito, Lara Oviedo.
Subs: Agueda Moroni (4 mins), Luciana Fernandez (5), Emilia Munitis (6), Eleonora di Mauro (7), Agostina Ayala (11), Ilaria Sarnari (16).
Sub not used: Lucia Caruso (GK).
Cards: Green: Chiara Tiddi (37 mins), Sofia Laurito (50 mins).
Umpires: Laurine Delforge (Bel) and Sophie Bockelmann (Ger)