Old Cranleighan have bold plans for growing club, reports Rod Gilmour, of The Hockey Paper
Thirty years ago, following a devastating clubhouse fire through vandalism, the Old Cranleighan Society took the decision to invest inheritance from an old member and insurance money into a rebuild complete with new astro.
The same vision is now shaping Old Cranleighan HC as a modern club, from grass roots and up. With 600 girls and 150 boys in the junior section, at senior level the club fields year-on-year growth with 10 men's, including four masters, and seven women's teams. 
Dave Matthews is into his third season as Old Cranleighan's director of hockey and coaches the men's side, currently second behind Canterbury in Men's Division One South. 
The men have had back-to-back promotions, becoming a National League side in 2019, while the women's 1s have enjoyed three promotions in the last four years to currently sit in the London Premier League. However, it was a rollercoaster summer for Matthews, who is also director of hockey and golf at Gordon's School near Woking.

He originally took over as women's coach a season and a half ago. But he handed over duties to first team men's player and assistant coach Ben Roe after men's coach Will Marshall resigned in the summer. It left Matthews to hot-foot it over to the men.
Matthew said: "There's been an awful lot of change recently but we've had a great start to the season before a blip at the weekend [losing to Richmond]."
Matthews, who played for England at the 2002 Commonwealth Games, watched from his iPad and was trying to relay messages from a golf club on his other school job. "Richmond is my old club where I coached five years ago and they managed to pip us 3-2, but it's exciting times at the club I must admit."
Old Cranleighan is seemingly going places. In the last decade or so the club has grown from three men and two women's sides to its current number, with three additional teams this season.
"It's a very happy family club," he added. "I've been at Canterbury all my life as a player for years and then a coach and this feels like Canterbury in London. There aren't many clubs with a special community vibe."
The club, with a number of paid coaches in its ranks, relies on 90 or so volunteer coaches at weekends for the juniors, while the club also uses facilities at nearby Surbiton High School.
"We are a huge club going the right way about progression and success," added Matthews. 
"We have big crowds for the men's games on a Saturday night and we are growing. We have a big stand on the side and we want to have a second pitch and six padel courts as well as a complete refurbishment of the clubhouse."
Could the Thames Ditton club be Premier Division ready if they continue success this season? Given that the coach has years of GB international and top flight pedigree, Matthews isn't so sure. "If we finish mid to top table this season it will be a fantastic season," he said.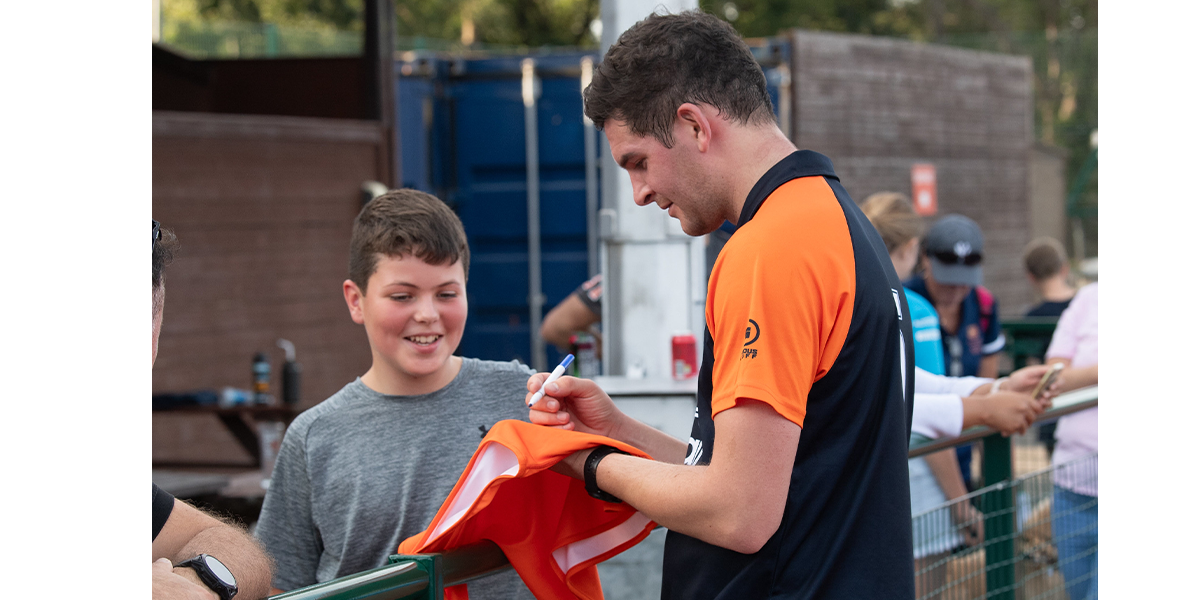 "If it did happen we have the stability at the club to back it up and sustain that ability to play in the Premier Division. At the moment we would struggle to stay up and you don't want to be that yo yo club. It's so hard to get there in the first place."
Yet they look to have a strong, stable squad, which includes 16-year-old talent Seth Hislop, although they may have lost Pakistani Olympian Mohammed Irfan after a knee injury.
Matthews added: "I'm not getting ahead of myself with two wins from three but this is a league where if you get your tactics right, the boys are fit and playing the right style, then you can get a lot of results in the league."
Plans from the Old Cranleighan Society, which is run through Cranleigh School, are to make the venue a first-class facility, according to Matthews.
The former Canterbury stalwart played hockey in Amsterdam for three years and he admits that Old Cranleighan has the feel of a welcoming Dutch set up. "In the summer the decking and grass area is full of people and they enjoy watching the hockey. It's a very social area and through the winter as well," he added.
Heading to this weekend and the club's Saturday fixture under the lights, Matthews will be back on the sidelines, instead of watching anxiously from an iPad. 
"If we can get three points, we can stay up there with Canterbury and see how the next few games go," he added.
Saturday: Old Cranleighan v University of Exeter, 5pm