EuroHockey Championship – Women Pool C
Ireland 1 England 5
England took a big step towards securing fifth place and World Cup qualification, coming back from a 1-0 first quarter deficit to beat Ireland 5-1 and secure their position at the top of Pool C.
Having carried forward a 4-0 victory over Italy, a draw against old rivals Scotland will be enough to finish fifth after what will be considered a disappointing tournament for the team.
Ireland will also probably look back at the tournament with disappointment, the 2018 World Cup finalists, coming so close to reaching the EuroHockey Championships semi-finals for the first time in their history but missing out after a frustrating 1-1 draw with Spain.
The game began with both defences on top, neither side able to make a real breakthrough and Nicola Daly seeing the world from a different angle after a clash with England captain, Hollie Pearne-Webb.
The deadlock was broken in the ninth minute with a stunning goal, Anna O'Flanagan crossing from the right for Deirdre Duke to dive forwards in the circle and deflect the ball past England goalkeeper, Maddie Hinch and into the net.
Two minutes later, Duke nearly doubled the lead following a cross from Naomi Carroll as England, still reeling from their failure to reach the EuroHockey semi-finals for the first time in their history struggled to cope.
Everything changed in the second quarter, Susannah Townsend going on a run before England forced their first two penalty corners in the 20th minute. The first, following Lizzie Holden's foul on Lily Owsley was sent past the right post by Grace Balsdon, but the second was neatly slipped by Balsdon to the left were Anna Toman slapped home the equaliser.
Three minutes later, England were ahead. Erica Sanders and Lily Owsley combined on the right before Owsley's cross was turned in by Sarah Evans into an empty goal with Ireland goalkeeper, Ayeisha McFerran committed at the near post.
Evans struck again in the 29th minute, Laura Unsworth and Ellie Rayer becoming goal providers for Evans to finish, Ireland losing their video referral challenging the decision to award the goal.
England had gone from 1-0 down at the end of the first quarter to 3-1 up at half time, but Ireland pushed forward early in the third quarter, Carroll losing her footing when trying to control the ball in the circle.
After that, England didn't really have any problems, Izzy Petter shooting over the bar from Balsdon's pass and Ireland falling 4-1 behind in the 42nd minute, Giselle Ansley's shot seemingly getting a touch from Lily Owsley's stick from England's seventh penalty corner after Ireland lost a defender due to a break from the goal-line.
In the fourth quarter, Rayer's shot was saved by McFerran and Sanders pushed the rebound past the right post as England continued to dominate.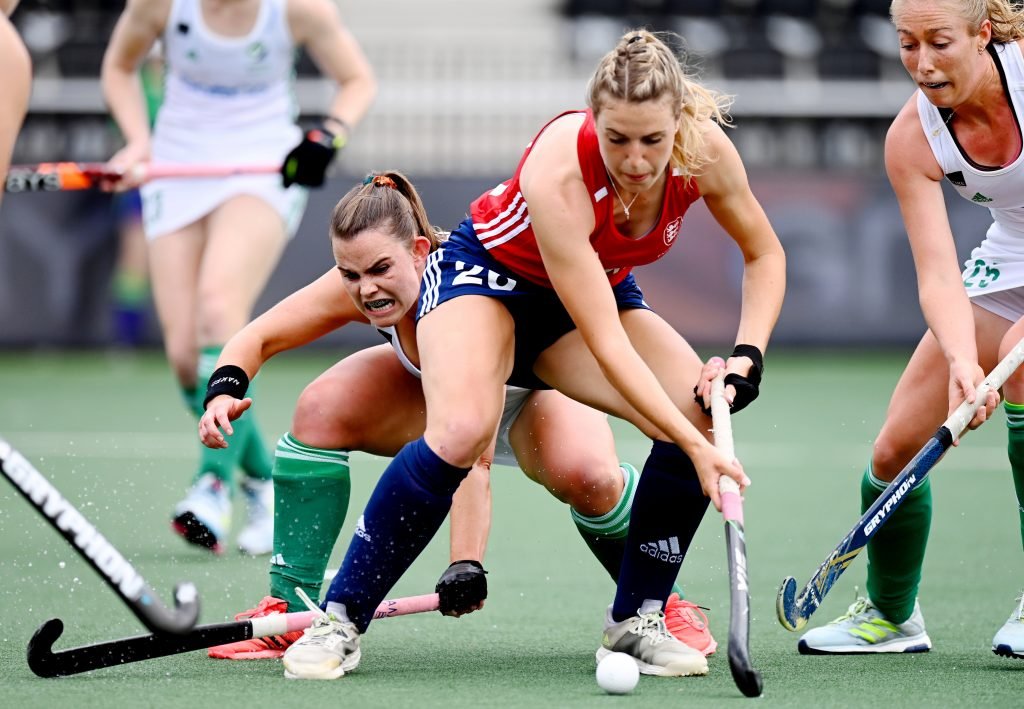 There were smiles in the penultimate minute as England's eighth penalty corner brought their fifth goal, Toman's drag-flick deflected over McFerran by Jo Hunter with Townsend swiping at the ball twice on the goal-line and missing as her lack of hand to ball co-ordination deprived her of an insurance touch.
With England on six points, Scotland and Ireland on three and Italy on zero, England can finish fifth with a draw against Scotland at 1745 on Saturday.
Ireland:
Scorer: Deirdre Duke 9-F
Starters: Ayeisha McFerran (GK); Roisin Upton, Nikki Evans, Katie Mullan (Capt.), Shirley McCay, Lena Tice, Naomi Carroll, Hannah McLoughlin, Lizzie Holden, Sarah Hawkshaw, Anna O'Flanagan.
Subs: Hannah Matthews (3 mins), Deirdre Duke (3), Michelle Carey (4), Nicci Daly (7), Megan Frazer (8), Zara Malseed (42).
Sub not used: Lizzie Murphy (GK).
Cards: Green: Lizzie Holden (20 mins), Katie Mullan (40 mins).
England:
Scorers: Anna Toman 20-PC, Sarah Evans 23-F, 29-F; Lily Owsley 42-PC, Jo Hunter 59-PC
Starters: Maddie Hinch (GK); Laura Unsworth, Sarah Evans, Anna Toman, Susannah Townsend, Ellie Rayer, Giselle Ansley, Hollie Pearne-Webb (Capt.), Lily Owsley, Grace Balsdon, Izzy Petter.
Subs: Catherine Ledesma (3 mins), Esme Burge (5), Lizzie Neal (5), Jo Hunter (5), Fiona Crackles (5), Erica Sanders (16).
Sub not used: Sabbie Heesh (GK).
Cards: Green: Lily Owsley (57 mins).
Umpires: Sarah Wilson (SCO) and Ilaria Amorosini (ITA).