Belgium 1 Great Britain 1 (Great Britain win 3-1 in shootout)
Great Britain came away from their first meeting of two with Belgium in Brussels with two points after winning a shootout, but will be wondering how they didn't claim all three after failing to convert several scoring chances. Belgium will also consider that they could have claimed the win after pressure in the fourth quarter.
After the miserable weather in Amsterdam, Saturday afternoon in Brussels was sunny as Belgium's Anne-Sophie Weyns won her 100th cap for the Red Panthers.
Great Britain retained the squad which had lost 3-0 to the Netherlands forty-eight hours previously, and after struggling to break down the Dutch defence, found scoring chances more plentiful in Brussels. Having broken their run of conceding second minute goals, Great Britain came close to breaking the deadlock in the seventh minute, Jo Hunter only able to force a save from home goalkeeper, Elena Sotgiu after an excellent run by Ellie Rayer.
Belgium forced their first penalty corner in the ninth minute, but Great Britain goalkeeper, Sabbie Heesh was equal to Vanessa Blockmans' shot before an unexpected break in play when a microphone had to be pushed further away from the Great Britain back-line.
Great Britain took the lead in the eleventh minute, Tess Howard cheekily passing the ball through her legs for Sarah Jones to smash the ball first-time from the left of the circle into the far right corner of the goal beyond Sotgiu.
Tiphaine Duquesne showed some brilliant possession skills before rifling a reverse stick towards goal at the end of the first quarter, but it was Great Britain who threatened in the second, Laura Unsworth finding Hunter whose shot was fired across goal.
Izzy Petter also had a short range scoring chance whilst Belgium struggled to find their rhythm, making several unforced errors with Judith Vandermeiren especially frustrated after losing possession near the visitors' back-line.
Belgium will also need to work on their penalty corner routine after suffering mistraps in both halves and failing to convert from six awards, but their penalty stroke execution proved to be faultless after the ball struck Anna Toman's foot on way to goal in the dying seconds of the first half. Duquesne slotted the ball to Heesh's right in added on time, although the GB goalkeeper went the right way, but honours were even at the interval.
Belgium forced a couple of corners and Unsworth had a shot for Great Britain in the third quarter, but Belgium stepped up the pressure in the fourth, Michelle Struijk firing past the left post after an assist from Louise Versavel and Alix Gernier showing frustration after forcing a save from Heesh.
Sotgiu took no chances five minutes from the end with a stick save from a Howard shot which looked to be going wide of Sotgiu's right post and although both teams had the chance to win the game in the final quarter, the game was decided by a shootout.
Pauline De Ryck replaced Sotgiu in the Belgian goal for the shootout and could only watch as Versavel was dispossessed by Heesh before Versavel had a shot saved. Lily Owsley duly found the backboard to put Great Britain 1-0 ahead.
Stephanie Vanden Borre also had a shot saved by Heesh with the ball leaving the circle, however De Ryck denied Toman with a glove save forcing Toman to run out of time.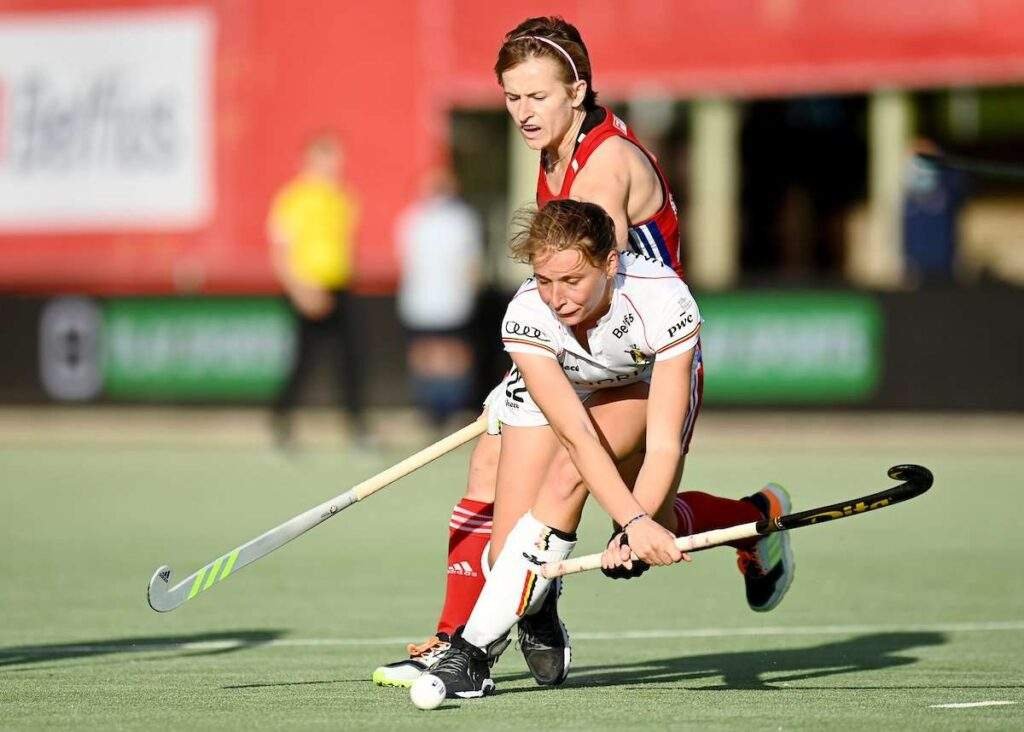 Duquesne dispatched the ball into the netting to bring Belgium level at 1-1, only for Sarah Robertson to restore Great Britain's lead after shaping to shoot and then lifting the ball into the netting past De Ryck.
Heesh put Great Britain on the brink of claiming the bonus point with a save from Abi Raye and it was left to Howard to smash the ball off the backboard to seal a 3-1 shootout win.
Great Britain return to Brussels for the second game at 1 pm GMT on Sunday (1 November) whilst Belgium will have to find out whether the scheduled game against the Netherlands on Wednesday (4 November will go ahead with a national lockdown due to start in Belgium from Monday.
Belgium:
Scorer: Tiphaine Duquesne 30+-PS
Starters: Abi Raye, Judith Vandermeiren, Emma Puvrez, Alix Gerniers, Tiphaine Duquesne, Michelle Struijk, Barbara Nelen (Capt.), Stephanie Vanden Borre, Elena Sotgiu (GK), Lucie Breyne, Alexia 'T Serstevens.
Subs: Louise Versavel (2 mins), Pauline Leclef (2), Lien Hillewaert (3), Joanne Peeters (5), Vanessa Blockmans (6), Pauline De Ryck (GK) (60).
Sub not used: Anne-Sophie Weyns.
Cards: None
Great Britain:
Scorer: Sarah Jones 11-F
Starters: Laura Unsworth, Anna Toman, Susannah Townsend, Sarah Robertson, Ellie Rayer, Tess Howard, Sabbie Heesh (GK), Lily Owsley, Grace Balsdon, Amy Costello, Fiona Crackles,
Subs: Sarah Jones (5 mins), Jo Hunter (5), Sophie Hamilton (6), Lizzie Neal (6), Izzy Petter (9).
Subs not used: Holly Hunt, Miriam Pritchard (GK).
Cards: None
Umpires: Céline Martin-Schmets (BEL) and Jonas van 't Hek (NED)